Changes at the helm of AWCI
Stuart Phelps, National President of the Association of Wall and Ceiling Industries (AWCI), has welcomed the appointment of Richard Arkinstall as AWCI Executive Officer.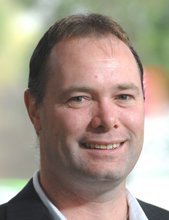 Richard has over 10 years' experience in the New Zealand construction industry and comes to AWCI from BRANZ where he held General Manager and marketing management positions. He has substantial experience in the management and governance of service-oriented organisations.

"The AWCI has been experiencing significant growth as our members provide the quality finish required for some of the most visible parts of a new build or renovation. We are very pleased to have Richard with us to continue raising the profile of our members' work," says Stuart.
 "It's vital that AWCI certified members are trade qualified and possess the necessary skills to adhere to strict workmanship guidelines for the New Zealand consumer. As the new EO, Richard will be working to continually build the AWCI brand that the industry and homeowners can rely on."
In appointing Richard to the EO position, Stuart has announced that long-time industry stalwart and current AWCI Executive Officer, John Parkin, has decided to step down. After 4 years in the role, John's last day will be at the next National Executive Council meeting in Auckland on 18 February.
"I would like to acknowledge the amazing contribution John has made to the growth of the AWCI. As an ex-President, Life Member and latterly as Executive Officer, John has been the foundation of many successes. We wish John every success in the future and thank him deeply for all his work," says Stuart.
AWCI consistently partners with Government and other industry agencies to deliver projects so Richard will be based in Wellington to maintain this communication. To facilitate this location change, the PO Box address for the AWCI will change immediately to the new address below:
AWCI, PO Box 45098, Lower Hutt, Wellington 5042.
The current 0800 292 469, mobile 027 288 3770 and email admin@awcinz.org.nz will remain unchanged.
BCITO congratulates John on the key role he has played working with us, representing the Association on the BCITO Interior Systems National Advisory Group (more recently as the Chair of the Group) and contributing technical content to qualification and learner resource development. We wish John all the best in his retirement.
More News
Applications are now open for IAG Trade Scholarships for BCITO Carpentry and Glazing apprentices.
Work in the flooring industry? You're invited to attend the biggest get-together and celebration scheduled for the industry this year.