NZ Interior Plastering apprentice best in Australasia
BCITO recently supported interior plastering apprentices to travel to the AWCI GI Workskills competition held in Darwin Australia and one performed ahead of the rest.
Rikki Dewes, a BCITO interior plastering apprentice with Atlas Fibrous Plastering in Hastings has been voted Best Apprentice in the Association of Wall & Ceiling Industries (AWCI) Annual GI Workskills competition held in Darwin, Australia.
Rikki beat apprentices representing every state in Australia and from across New Zealand to the title. Rikki says, "It was a great experience and really tough competition with so many talented apprentices. The challenges really drew on all our skills in plastering, plasterboard fixing and professional finishing."
Rikki and fellow New Zealand competitor Ben Ross were supported by BCITO to travel to the international competition. "Supporting and celebrating high achieving apprentices is such an important part of what we do. Both Rikki and Ben's achievements are certainly a testament to the high level of training and inspiration they each receive from their employers every day in the workplace," says Warwick Quinn, Chief Executive, BCITO.
The AWCI Australia and New Zealand GIB Workskills competition aims to develop the professionalism and skills of interior fit-out specialists. Stu Phelps, AWCI President commented, "This sector of the construction industry is very short of skilled workers and apprentices. The GIB Workskills competition is an important element of developing and training new entrants. The competition is fantastic for the young guys and really lifts them to bring out their best."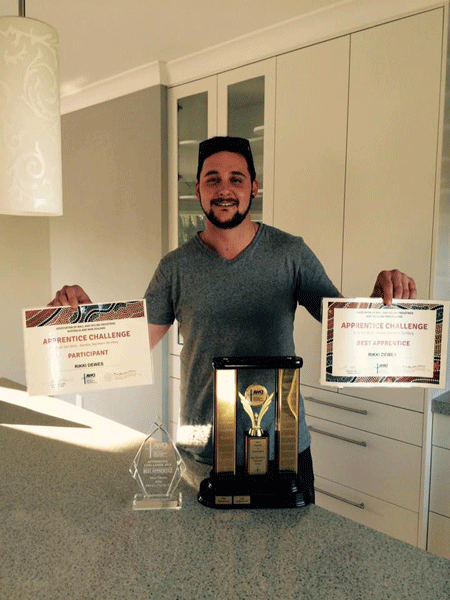 Fourteen apprentices  won regional competitions across New Zealand and Australia held throughout the year. These finalists competed at the international competition held at the AWCI Australia/New Zealand conference held in Darwin, Australia. 
Rikki outlined, "Competing in the final heat really focuses you and even though it was a competition, I learned many new skills that I'll be sharing with my fellow apprentices back in New Zealand." 
Atlas Fibrous Plastering in Hastings have a strong history of preparing top performing apprentices. and have previously had 15 of their apprentices attend the international event.
Congratulations Rikki and Atlas Fibrous Plastering - what a smooth finish!
More News
Applications are now open for IAG Trade Scholarships for BCITO Carpentry and Glazing apprentices.
Work in the flooring industry? You're invited to attend the biggest get-together and celebration scheduled for the industry this year.