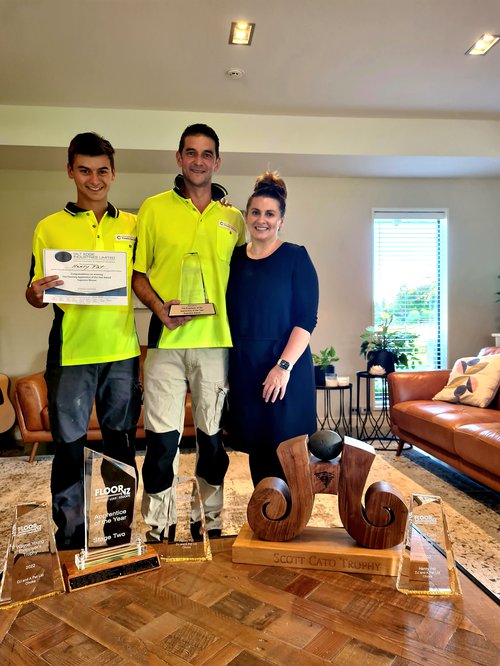 This year, FloorNZ has again enlisted Scott Cato, a legend in the flooring industry to travel to the workplaces of all the winners to present the award to the apprentices. All award presentations included a morning/afternoon tea shout, sponsored by BCITO. This provided a great way for our award winners to celebrate with their peers, family and colleagues.
BCITO want to congratulate all of the award winners for the dedication they have shown towards their training.
Congratulations to the following award winners:
Stage 1 Apprentice of the Year: Ryan Perkins, TAK Flooring Ltd, Dunedin
Stage 2 Apprentice of the Year: Henry Pat, Christchurch Timber Sanding, Christchurch
Stage 3 Hayden McKenzie Memorial Trophy Apprentice of the Year: Calem Castle, Winton Flooring Specialists, Invercargill
The criteria for the Stage 1-3 award are preparation work for block courses, professionalism and quality of work demonstrated during the block course.
The Villars Award: Patryk Kelly, Tauranga
This award recognises an apprentice who displays a special attitude and commitment to their training often when challenged by other circumstances.
Floor Planning & Design Trainee of the Year: Kylie Bannister, JB Flooring Xtra Ltd, Auckland
The criteria are quality of work and dedication throughout the course.
Wayne Young Trophy for Employer of the Year: Christchurch Timber Sanding, Christchurch
Recognises the contribution that an employer and their staff has made to Industry Training and the betterment of the flooring industry.
Supreme Award of the Scott Cato Trophy: Henry Pat, Christchurch Timber Sanding, Christchurch
This award recognises the overall stand out performance and achievements of an apprentice and is awarded to one of the stage 1,2 or 3 award recipients.
We also want to take the time to thank their employers, BCITO training advisors, evaluators, trainers, tutors at the Allied Trades Institute for their ongoing support and guidance, of which helps make our apprentices succeed in their apprenticeship.