Chelsea's Instagram page @SheBuildsBro has taken off. And that's for good reason. Before she became a carpentry apprentice with RMT Builders one year ago, there was nothing like this. Back then Chelsea wanted reassurance and encouragement that there are other women out there doing it, and that she could too. Now that she is doing it, she's taken it into her own hands to inspire others.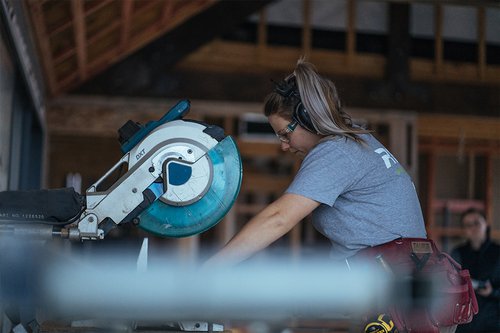 Chelsea's not a complete stranger to the building world. Her partner and two of her brothers are builders, and one of the reasons they moved from Auckland to Queenstown was to build their own home. But she'd never thought of the trades before, let alone put nails into a nail gun.



Having worked as a graphic designer for six years, opportunity told her it was time for a change. She wanted to be part of building her own home plus "they're screaming out for builders in New Zealand." With design, she felt like she was in a cycle of work "whereas when you're building a house you see it go from an empty piece of grass to something somebody can call home". That's super rewarding. And she's already earning more than she was with two design diplomas.
Chelsea describes herself as a persistent person. "I always tell myself 'I can do it'. I kind of pep talk myself over and over again." And it works. If something's challenging she won't give in, and puts all her focus and effort into it. Like in her first week when one of the boys asked her to bring over a sheet of GIB, at first she was like "I have no idea how I'm going to do this" but then she told herself that she can, and did.
"You can do it. It's the ultimate thing I say: Girls can do it."
When she's not on the tools, she's online chatting to other women who are. Whether its Instagram or The Tradie Lady Club on Facebook, she says it's so nice to hear other women ask weird questions too. "I'm so glad someone else is thinking the same thing I am". Things like what clothes to wear on site or equally how cool it was to dig a hole. It's just great talking to others that get it, from both sides.
"I want girls to know if they wanna be part of a community, they're not alone."