Chloe Davis is a 32-year-old mother of three and conqueror of challenges. She's come from hospo, been through tough times, and now she brings her all from triathlon training to demolishing walls.
Chloe took time off earlier in the year to re-evaluate things and find the "new me". That's when she realised that carpentry was her to a T. But she needed to back herself, because even close family and friends were unsure if she was making the right move.
She's just finished the first year of her carpentry apprenticeship and is reminded every day of her right move through her kids. They think it's so cool when she turns up in her high-vis and boots, does DIY around the house or upcycles furniture in her workshop garage.
"I feel like I'm showing them there's no limitation and it makes me feel proud as a person and as a mum."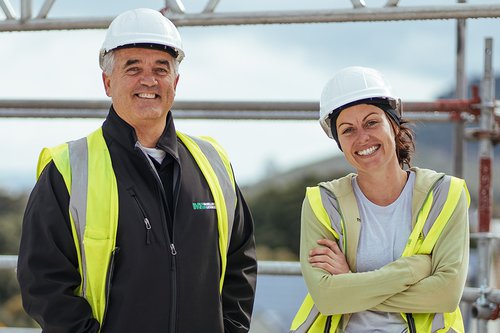 Chloe got into the trades from hospitality. "I really thought that was my calling." But when the restaurant she was at hit a pothole, she went to give her Dad a hand at McMillan & Lockwood. "They just started giving me work" and when she asked for an apprenticeship the boss, Keith Nightingale, said yes straight away.
"I guess my work ethic shone through and they could see my capabilities."
Chloe brings her hospo strengths to construction. She's bubbly, a real people person, with really good communication skills. That ability to talk to people naturally came out on the work site and Keith was so impressed, he asked her to start doing inductions.
Chloe jumps fully into everything and thrives off triathlons and long-distance running, where she has to find that mental strength and endurance to get to the finish line. There are always hurdles where you think 'I can't do that'. And then you do. Construction's no different, and she loves that.
Aside from being born for this, Chloe says her boss is a big reason she's with the company. Keith is super understanding of her kids and always says family comes first. She sees the trades as a career where "you can only go up" and loves the idea of being a site manager one day. Being Chloe there's no doubt she'll get there, along with every other finish line she sets herself.