Holly's spent most of her adult life in hospo as head chef for cafes, but it was only in the last three years that she's really felt her life gain momentum. She bought a home, got her weekends back, and as a single parent has been able to provide her three kids with the opportunities they deserve. What changed? A painting and decorating apprenticeship.
Holly's proud to announce she works for Painter Girl & Co: A 14-person company of fine-quality painters, half of whom are women, with a reputation of doing awesome work. Three years ago, it had just been her boss Steph with daughter Ngaria, but now "we've got work coming out of our ears". Customers love that they employ women. They're non-intrusive, very respectful, and have an eye for detail.
"I figured if I'm doing this for three years I might as well get qualified. If I can be paid to work and get a qualification, why not."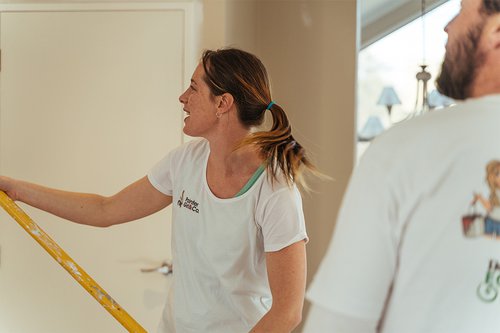 Working for a female boss has its feel-good perks. "I couldn't ask for a better boss, she's very empathetic, her motto is family comes first". Holly says she's worked for plenty of places where you're just a number, but with Painter & Co she feels indispensable.
So, what does it take to get into the trades? Holly says communication is huge, and being able to sympathise with your customers and "put yourself on their level". You've got to be good at time management, which Holly says hospo taught her. But more than anything you have to be determined to do it, with a passion.
"You've got to put your heart and soul into your job. If someone doesn't want to be there you can see it in their work."
Holly's passion for painting is driven by her children, "that's what I do it all for". She loves that her kids get to see her be successful. She loves that the pay rises are significantly better. And she loves that she has the means to give her children every opportunity. Like her oldest son's inline hockey, "we travel two hours each week just for training, I'm just so proud of what he's accomplished".
She thinks the main thing stopping women from making that leap into the trades is the fear of starting again. Luckily, she was raised by a mother who told her she'd have at least three careers in her lifetime, and that nothing should stop her from taking that chance. Holly knows she'll keep taking chances, because "once you're in the trades, it just keeps expanding."