Jake Lashman, owner of Legacy Custom Construction, believes gender doesn't even come into play when hiring his apprentices. In fact, he interviewed six people for Victoria's position and said "she was the most suitable for the job".
Victoria's got a different way of seeing things that Jake loves. "She thinks differently and comes up with great ideas." In fact, what he values the most about her are her unteachable qualities like her accountability, her honesty, and built-in keenness to learn. She's always asking questions.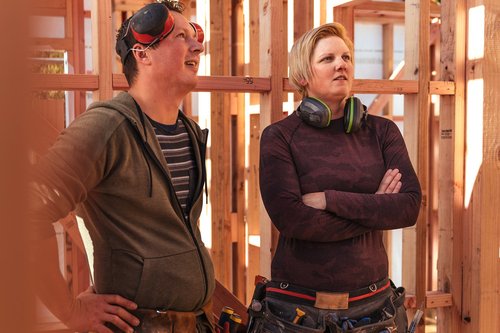 Interestingly, Victoria reckons she's the lucky one saying she "struck gold with Jake." Her previous boss of only two months tried to sway her from a career in the trades. But not Jake. Jake sees real value in Victoria, who's a key part of his three-person team with her determined mind-set.
Legacy Custom Construction is a growing company, doing everything between high-end new builds in Eastbourne to two-storey townhouses in Johnsonville, and Jake plans on growing his team with like-minded individuals like Victoria.
He may not realise it, but Victoria admits her hard work is amplified by having an awesome boss. "I'm already hardworking, but the fact that Jake's awesome, I want to do the best I can for him." Walking the walk with inclusivity, seems to be paying off.   
"It's about being inclusive and fair, showing equal rights and culture in my company."