Keith Nightingale, from McMillan & Lockwood Bay of Plenty, took apprentice Chloe on two years ago, and has never looked back. It wasn't a conscious decision to take on a female apprentice, she just proved herself in the yard during a four-week major clean up and she asked
There haven't been any tasks Chloe has struggled with. She can hold her own and has the right attitude, to say the least. Her positive personality and communication skills are making a real impact on the team. He's noticed other staff upping their game too.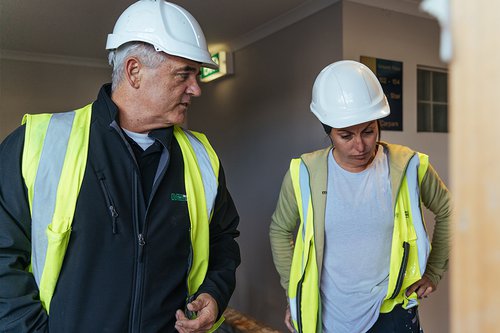 "Chloe doesn't take the soft option" says Keith. There have been times where she's had to make big decisions and she's always made the choice to get out there and get on with the job. "She pushes her own barrow and drives herself to be a good builder", which shows in her work.



"Chloe has the attitude to get stuck in and learn as much as she can."
Keith says genetics has a lot to answer for why he's in the trades. He's got a degree in Engineering but never had the temperament for being office bound. He loves challenges and puzzles, and to him building a building is like one giant puzzle.
His proudest puzzles that involved Chloe have been the Bayfair mall expansion, the new build of BestStart childcare centre, and the current Reef Apartment remediation works at the Mount. Chloe's an integral part of his team and the business' success.