Martin Goulden has a building company, but more than that, he has a philosophy: 'Family is more important than work'. His employee Rachel, who finished her carpentry apprenticeship in 2018, says this understanding of caring for family makes him the "best boss I've ever worked for". It also makes her work harder.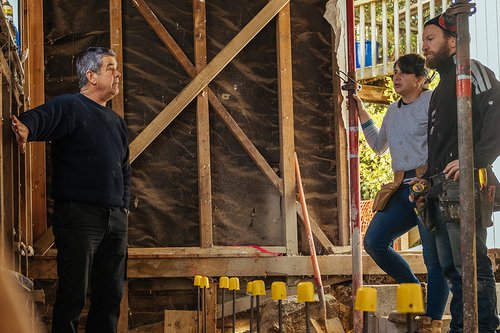 Rachel describes Martin Goulden Ltd as "big for a small business". There's 18 in the team, four of which are women, and all bar one completed their training through the company. "I don't see it as a male/female thing" says Martin, "Rachel brings the same advantages to our business as any employee brings with the same skills and attitude".
"Back in 2015 Rachel was working on a job we were on for a landscape gardener. She had mentioned to our staff that she was interested in a building apprenticeship. The quality of her work and attitude had not gone unnoticed."
Martin explains that it's the great relationships with clients that make the jobs memorable. Although one of the most interesting projects he'll never forget was rebuilding the Whale Sculpture on the City to Sea Bridge for the Wellington City Council. Every job's unique, and with a team that's hard working there's no wonder they're up to their 1187th job, and counting.