Rachel is 36 and thirsty for knowledge. Being a qualified landscaper for 15 years, she was chatting with some builders on a job and mentioned wishing she had done carpentry instead. The next day their boss was over chatting to her. And she's never looked back.
She may have fallen into her carpentry job (now a qualified builder since 2018) but that hasn't stopped Rachel from throwing her all into her work. "I do everything the best I can. I don't want to let anyone down." That was the most challenging thing at first, she says, wanting to show the guys she can do it all. "But it sunk in pretty quickly that I was capable of doing anything they put in front of me."
"I have to get everything right, I can't bear the thought of someone thinking I've done a shoddy job."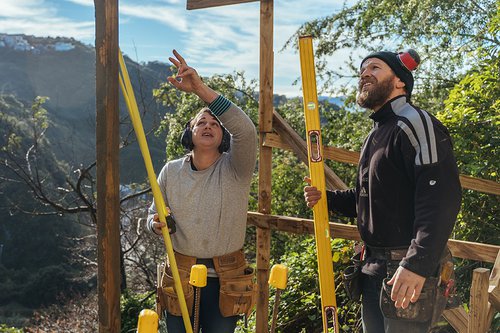 Rachel says there's a certain 'site fitness' you need working in the trades but it doesn't take long to get. "It's more of a stamina thing, being on your feet all day". At the beginning, she'd come home wiped. Now she's got enough energy left for Netflix.
She loves working for Martin Goulden Ltd. Not just the company, but her boss. Work wise she loves the detailed work, anything like architraves, skirtings and handrails. Boss wise, she raves about Martin saying he puts family first and lets her start late and finish early every second week when she looks after her daughter. But she's not the only one, there are dads in the company doing the juggle too.
Rachel's currently a solo mum to her six-year-old daughter, and recalls being raised by her mum who was similarly on her own. "I'd see her do everything herself, she'd paint the whole house by herself. Seeing her do that was normal to me, that women do that stuff." It definitely made Rachel who she is, "if she can do it, I can do it".
"My mum would be out there pushing the lawnmower cause she had to. She had to do everything."
Rachel says "just to take that first step you need to be a strong-minded type of person". One of her greatest strengths is being able to voice how she feels, which she thinks comes from just being older, "I'm not afraid to speak up if I think there's a better way". Rachel brings her confidence to her work, as much as working in the trades has given her confidence in return.