Sofie Graf-Russell is a 25-year-old painting apprentice for D&R Decorating who will be fully qualified come April 2020. The trades weren't something she'd originally considered but admittedly, as the youngest of four sisters who was always dabbling in cars or riding tractors, she knew she'd end up doing something different.
"When I was young, mowing the lawns, Dad made a block on the end of my shoe so I could reach the pedal and give it a go too."
The first four years of work Sofie spent as an Assistant Manager at the local restaurant and pub. "It was good," she says, "but it just felt like something I was doing, not where I wanted to be". Now she doesn't have those thoughts, the trades are just "the place I'm meant to be".
Sofie fell into painting when a friend of her Mum's was looking for an apprentice. Sofie had just helped her Dad paint his house, and having liked it, it seemed like a good idea. One year of working and three years of training later, there've been no regrets.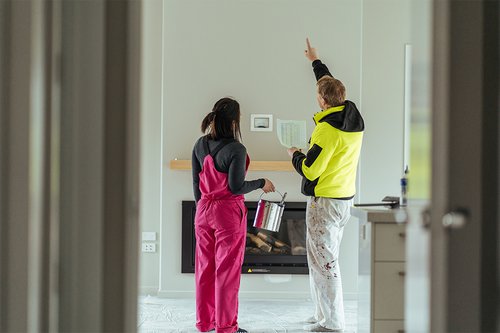 She's already earning more than she did in hospitality, and "having the weekends off is just so good". Sofie loves that with the trades she has a life, "in summer we're always barbequing or going out on the boat".
So, what's it been like? At the beginning Sofie didn't know what to expect. "The first year is the hardest because you're learning all the ropes." She was definitely worried at first that it might be physically challenging, but "you're not struggling 'cause there's always someone there to help you".
What the trades does take, says Sofie, is "the willingness to work hard - you've got to have no fear really." And that's exactly how she was raised, with parents and aunties who owned businesses and worked hard for everything they had. It definitely made Sofie who she is today; not shy and always up for giving everything a go.
"They raised me to try my best at things and not be afraid if it doesn't work out."
What Sofie loves the most about her work is being around a good group of people, and seeing the finished product. She's particularly proud of the 900-square-metre house she's been in charge of since last November. "It's one of the most high-end homes we've done, the finishes are immaculate".
The future is a bit far for Sofie to think about, but she knows she'll be in painting for a while yet. It might lead to interior design or her own business, who knows. All she's certain of is that she's on the right path.