Stephanie Harris got into painting by accident. She just started on her own, realised she enjoyed it, and then started hiring people. "Never in my wildest dreams I thought I'd end up employing 14 people."
Her company Painter Girl & Co says it all. The fact that Steph employs so many women is a real draw card for customers. "I find a lot of customers really appreciate the feminine touch, feel we will be thorough, detail oriented and easy to deal with". And she's not wrong. Their understanding of customers' emotional needs as well as painting expertise, have made them the preferred painters for several businesses around Tauranga.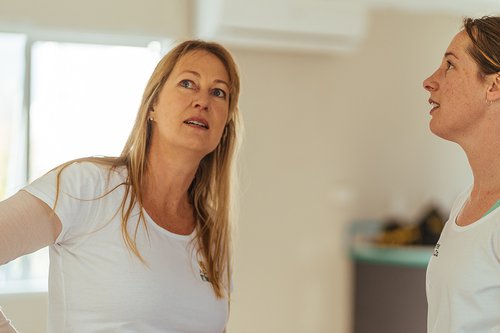 One of her almost-qualified apprentices, Holly Roberts, is a prime example. She goes the extra mile to be of value and service on the team. "Her can-do attitude means she's always willing to do the hard work and put herself forward." Now because of that, Holly's in a position where many more opportunities will come her way in the future.
Opportunities are a big reason Steph loves taking on women apprentices. She loves encouraging them to be proud to work in a male dominated industry, "hold their head high and know that they are trailblazers for other women, which is a very special situation to be in".
"It's an enormous sense of achievement to have respect of other tradespeople and customers."
Steph wants to encourage her employees to grow into business owners in their own right. In fact, when it comes to Holly, Steph can see her becoming the face of Painter Girl & Co and taking over a lot of her current management role. Lucky for Steph, Holly has the same idea in mind and couldn't dream of a better boss.