Victoria Mitchell is a single parent, her 7 and 13-year-old boys are her everything, but that's not all she is. In fact, she's just finished the first year of her carpentry apprenticeship with the best boss anyone could have asked for, Jake Lashman from Legacy Custom Construction.
After running her own successful cleaning business for six years, she decided she "just wanted more". She didn't want to get into Uni debt unless she knew what she was going to do, but with the trades it was different. "With the trades it's a win-win, 'cause whatever happens you've learnt skills to apply in your own life."
Finding an employer who would take her on as an apprentice wasn't the easiest. Although there shouldn't be a stigma about women in the trades, when her brother knew of a building company wanting an apprentice he asked "would you hire a woman?". Owner Jake didn't hesitate, "what are you talking about, that's got nothing to do with it."
Victoria says she struck gold with Jake. He's an amazing boss who makes her feel part of the team and knows where to place each of them to work best. "We had to shift this huge frame once, and it wouldn't have made a difference if we'd had three strong guys, it needed a smart intricate method to do it right."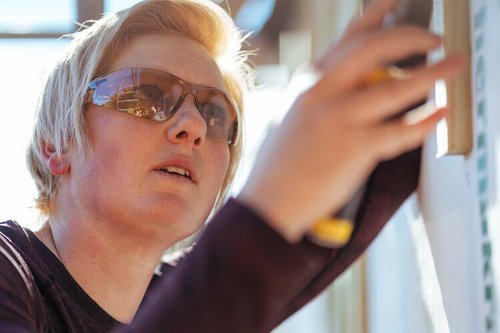 Victoria loves how mentally stimulating it is to build a house. It's so much more technical than she'd imagined. "When I first looked at the plans it was like a foreign language, but now I look at the design specifications and I can see what's going on." And that's just after one year.
You've got to be strong, Victoria reckons, to be in the trades. But not physically. Hard working and resilient are two attributes that define her, both from the way she was raised and then having lost her parents in her late teens. "You've just to keep going basically. It definitely made me tougher." She always wants to do a good job, and having a great boss just amplifies it.
"You need to have mental strength, problem solving abilities and perseverance."
So where to from here? The kind of person Victoria is, she'll probably go out on her own one day. But for now, she's really happy. Happy being an apprentice and happy being self-sufficient. She's even upcycling furniture for fun. Of course she is.
"Little things you never thought you could do, all of a sudden you can. It makes you feel like you can do anything."