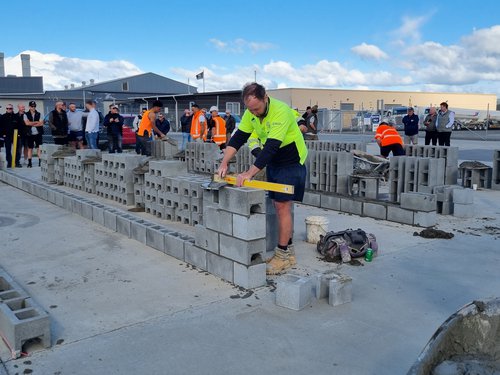 The competition is open to all apprentices who have completed their Stage II block course. This is a portfolio entry highlighting previous work that the apprentice has undertaken with endorsements from their employer and BCITO Training Advisor.
There were four entrants in total, and we congratulate them all for submitting their application – the other apprentices who entered were Jake Shaw – Employer: CF King, and Mitchell Goodchild – Employer: Atkins Bricks and Blocks Ltd.
The conference also hosted the annual 'Fastest Trowel' competition. Limited to only five entrants, each needs to lay a wall nine metres long (22.5 blocks). They lay the first course before the competition to make sure it is level (given the ground they are laying on). The competition is 20 minutes long with a five-minute break in the middle, and at the end, five minutes to tidy off the work. It is judged by how many units are laid and then points are deducted for quality (level, plumb, joint finish). Congratulations to the 2023 Winner, Dane Mason of Jones Brick & Block Ltd.