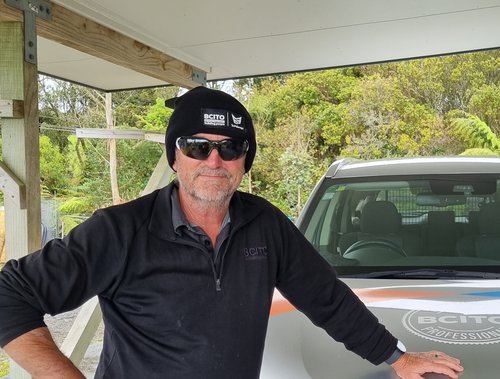 What interested you about getting into the Brick and Blocklaying trade?
I wanted to leave school but like so many young people, I wasn't allowed to until I got into a trade (my father's values are good values to have).
My tech drawing teacher at School recommended me for a brick-and-block laying job that had come through the school office. He reckoned I had good eye-hand coordination skills!
When I went to the interview along with a fellow student, I was offered the job on the spot! I was interested in a trade but was unsure about which one but got enthusiastic about the brick and block laying trade after getting the job and experiencing the daily life of a bricky. Luckily, I had a great employer – they were three brothers in Napier (Wynands Masonry) - Jerry, Ted, and Anthony Wynands. The brothers were a fiery lot with weekly friendly fisticuffs amongst themselves, and then it would be back to work once whatever the problem was, was sorted. It was an amazing dynamic where I just stood back and watched the show! They were great teachers of the industry, and I was taught to work to a very high standard that was part of their everyday work ethic.
Did you have an interesting scope of work with your employer?
Wynands Masonry were brick and block layers, solid plasterers, PPCS plasterers, tilers, and paving and concreting contractors, so I had a good variety of work whatever the season. All the work was interesting, and it was satisfying to see the finished products, knowing they would be around in the future. I have shown my family these jobs when visiting Napier saying, 'I worked on that!' All I got was … 'Great Dad, where's the ice cream shop!'
How many years did you work in the trade – why did you leave?
I was with Wynands for six years before going to Aussie for 10 years working in the Sydney district with a crew of 5-10 workers, eventually running the team for the last five years that I was there. I learned how to lay fast but to top quality, also teaching the crew along the way. Most of the work was two-story residential housing with arches, herringbone panels, full brick foundation/retaining work, and outdoor BBQs with full chimneys with firebacks. On average, I was laying 1000-1200 bricks a day.
In 1996, I came home with my Kiwi High School sweetheart (my wife) and three children (all under five), relocating to Auckland where I got a job with Humphries Brick and Blocklaying on the Hibiscus Coast where I worked for two years as a foreman. I then branched out on my own in the commercial and residential sectors, training apprentices along the way I eventually met up with Warren Charlton (currently the key Tutor for the BCITO block courses at MIT Tech Park in Auckland) where we worked together until I got an offer in 2016 from BCITO to get involved in training/assessing apprentices.
By now the physical side of the trade was taking a toll on the body but I wanted to be involved in the industry somehow. BCITO was a good fit for sure.
What did you enjoy most about being a brickie?
Being a bricky was very satisfying, especially seeing the client's reaction when they saw the finished product, being creative in your work, and building different structures that are still standing to this day.
The people you meet and work with make the job enjoyable with a special onsite camaraderie being what I miss the most.
What do you get the most out of being a Training Advisor for the sector?
The satisfaction when you hand over the certificate to the qualified apprentice, especially when you have built up a special relationship and see their pride (and the families) in getting qualified.
Collaborating with the employers and apprentices is great – from talking to them and walking around various sites witnessing progression and the various building techniques being demonstrated daily.
Work I do with employers and apprentices in the brick and block laying trade, helping others, and being asked to give specialist advice where and when I can. My fellow BCITO workmates are also valued for their help and the laughs along the way.