2020 Flooring Apprentice of the Year with a twist
For many years, BCITO, in conjunction with FloorNZ and sponsors from the industry, has worked to organise the Flooring Apprentice of the Year Awards.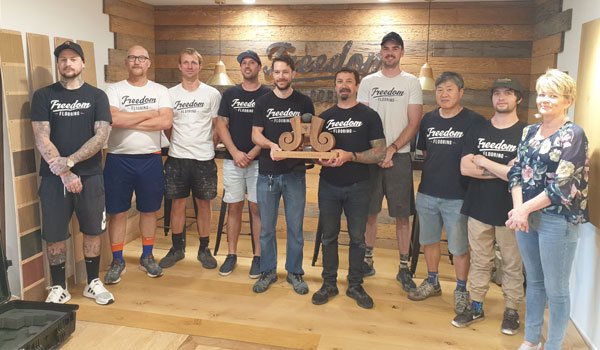 The awards evening is a public celebration of training excellence within the flooring sector. The event gives us a platform to shine a spotlight on the hard work and dedication shown by high achieving apprentices. Additionally, the awards allow us the opportunity to show our appreciation to the employers and trainers for their role in supporting their apprentice's growth and development.
We made the difficult decision to cancel the Flooring Apprentice of the Year Awards evening in 2020 due to COVID-19. The uncertainty that came with living in a COVID-19 environment made it very difficult to plan and host the event. In the interest of managing the health and safety of the attendees, we felt that this was the best decision. The cancellation of the event forced us to consider alternative ways of celebrating the achievements of the award winners.
We decided that if we couldn't bring everyone together at an event, we would instead get the celebration to them. To this end, BCITO arranged morning/afternoon tea shouts and prize-givings for the award winners at their workplaces.
We congratulate all this year's award winners, along with their employers and trainers:
Stage 1: Jade Paniora-Tierney of Measureup Flooring Ltd
Stage 2: Stefan Lutge of Freedom Flooring Ltd
Stage 3: Max Tasmania of Boyd Flooring Ltd
Villars Award: Matthew Kerr of North Wellington Carpets
Flooring Planning and Design Award: Brent Read of Read's Trading Company
Supreme Flooring Apprentice of the Year: Stefan Lutge of Freedom Flooring
We sincerely thank the sponsors for their continued support – FloorNZ, Techspan, LookFloors, and Dunlop Flooring.
More News
The Building and Construction Industry Training Organisation (BCITO) has set a record of 16,000 apprentices in training.
Have you heard? – the NAWIC Excellence awards 2021 are happening and open for nominations!