2020 New Zealand Building Industry Awards
BCITO is delighted to share the news that our newest member of the Carpentry National Advisory Group, James Reed (representing Dominion Constructors – Auckland), was announced the GIB® Supreme Winner at the 30 October Awards Dinner.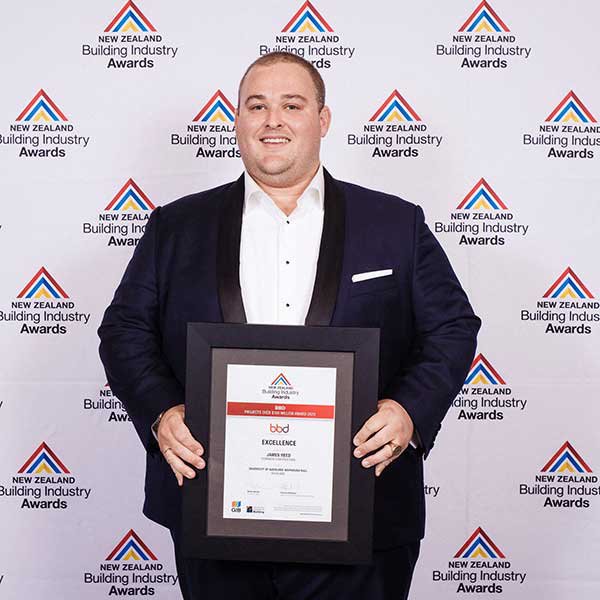 James was the Category Winner with Excellence for the Projects above $100 million Award.
Waiparuru Hall is an Auckland University hall of residence for school leavers. The site, adjacent to the University's campus, is narrow and on a 45-degree bank heading down towards the motorway. Over 7,000m3 of rock had to be removed, to create a flat site for the 12-and 14-story towers. BIM was used to work through the design, minimising on-site delays and re-works. Previous plans to develop the site had proved too challenging as it is surrounded by residential high-rises, businesses, and a busy motorway port exit.
Project Manager, James Reed embraced technology, using BIM and other new technologies where possible to simplify and enhance the build process.
The impact provided numerous challenges over the 36-month build, design, logistics, and programme being key concerns. Housing 786 school leavers from around the country meant there was no flexibility on the opening date. The site meant delivery management was a key component. Deliveries had to be done just-in-time as there wasn't any standby on the street. James pushed for prefab toilet pods, an innovative approach that improved quality, but which required careful planning, given the lack of space on-site.
The judges noted that this project started as a hard tender that was converted to an Early Contractor Involvement (ECI). They said, "James was an integral part of the research behind the builder-led proposal to supply the bathrooms as modular toilet pods, as opposed to a traditional bathroom fit-out method as originally designed, as he was with the proposal to change the foundation work to a raft design."
Both proposals were accepted by the client, who saw James as the main factor in delivering an exceptional result. James demonstrated excellent leadership skills, promoting innovative solutions, utilising an array of technologies that enhanced the project delivery.
Source: NZIOB
More News
The Building and Construction Industry Training Organisation (BCITO) has set a record of 16,000 apprentices in training.
Have you heard? – the NAWIC Excellence awards 2021 are happening and open for nominations!