2020 a year of firsts
for Designer Madi Duxfield.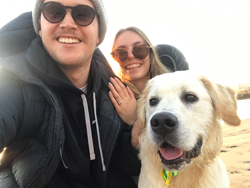 In March 2019, BCITO launched the NZ Diploma in Design, since its release more than 114 designers have enrolled, and the first to qualify is Madison (Madi) Duxfield of German Kitchens, Wellington.   
Madi was blown away when she found out she was the first in New Zealand to qualify, in her true understated style, she said, "It's very cool." As we chatted, it soon became apparent that 2020 has been a year of achievements and milestone events, including purchasing her first home with partner Jarrod and Charlie (their golden boy), achieving her third tertiary qualification and topped off with a wedding proposal.  
"I think it's essential to be willing and open to continuous learning. Keeping current is key and this reflects in the design and product choices I select for my clients.  In this industry knowledge is currency, and it is essential for clients to feel comfortable that you can offer them the latest solutions and options, they like to know that we know our stuff. 
"I see that they take notice of our qualifications when they come in to talk about their designs, and it makes them feel confident that I'm providing them with the very best," says Madi.
"Everything has worked out perfectly, but to say it was easy would be an understatement. Balancing work, life, and study tests your resolve and resilience when trying to maintain a healthy balance of all three.  But it's 100% worth it, and now with No Fees its free!"
When asked about how her career path compares to that of her friends, Madi says, "Most think it's an exciting field to be in. I feel many of my friends have what would be considered a more traditional job. I think it's awesome to be doing something different." 
Madi has been very fortunate to contribute to some fantastic jobs. "One of the most memorable and probably unique was having the opportunity to be a part of the Unserhaus (BSH showroom, Auckland) design team alongside Damian Hannah.  A commercial space like this throws unique challenges compared to residential – it demanded we stretch creative boundaries within the realm of what's possible but workable in build and function." 
With a smile no one could hide, Madi says, "Yes there's a wedding early next year.  Jarrod, Charlie, and I are very excited! I'm loving designing something a bit different, pulling from my spatial degree learnings.  A wedding, especially your own, is next level."
BCITO congratulates Madison on being the first person in New Zealand to qualify in the NZ Diploma in Design Level 5.  2020 has been a whirlwind of wonderful for her and fiancé Jarrod. We look forward to seeing the wedding photos and your NKBA award-winning designs in the future.  
More News
The Building and Construction Industry Training Organisation (BCITO) has set a record of 16,000 apprentices in training.
Have you heard? – the NAWIC Excellence awards 2021 are happening and open for nominations!