2021 Master Builders Carters AOY winners announced
We are proud to share the winners from the 2021 Apprentice of the Year following the national event which took place in Wellington on Wednesday and Thursday last week.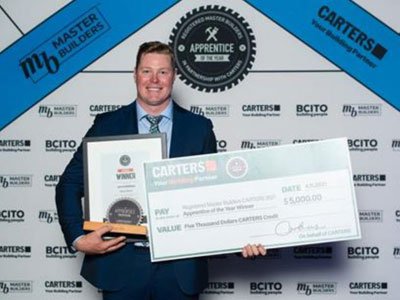 Jarred Badham from the Central North Island region, employed by Nailing It has taken out the title of 2021 Master Builders CARTERS Apprentice of the Year. Jarred is from Palmerston North.
The competition was once again a chance for the industry to recognise the important role that a strong pipeline of talent plays. Apprentice of the Year not only celebrates developing talent but showcases to the country the opportunity that being a carpentry apprentice represents.
Runner-up was Hayden Lambert, 26, from the Waikato region, employed by SJR Builders. Third place went to Joshua Fraser, 23, from Auckland, employed by Craft Renovations.
All three winners were trained through BCITO. Congratulations to you all, and thanks to all those across the country who make this event a success every year.
It's vital that we continue to celebrate winning apprentices. Support of the trades and apprenticeships has never been so important. Our development of new talent must keep pace with the demand for skilled builders. The long-term health of our sector depends on it. It is promising to see such great talent coming through this year's competition, especially during COVID times.
More News
New Zealand Master Joiners Otago Chapter, BCITO and the National Kitchen and Bathroom Association have been holding a graduation ceremony for Joinery and Kitchen Design apprentices for ten years.
New Zealand Master Joiners, the National Kitchen and Bathroom Association and BCITO have worked together to recognise Joinery and Kitchen Design learners in Otago.