2021 Apprentice of the Year
Congratulations to Tuaine Ruatita of GDPD Ltd of Palmerston North for winning the 2021 Master Painters Association Apprentice of the Year competition.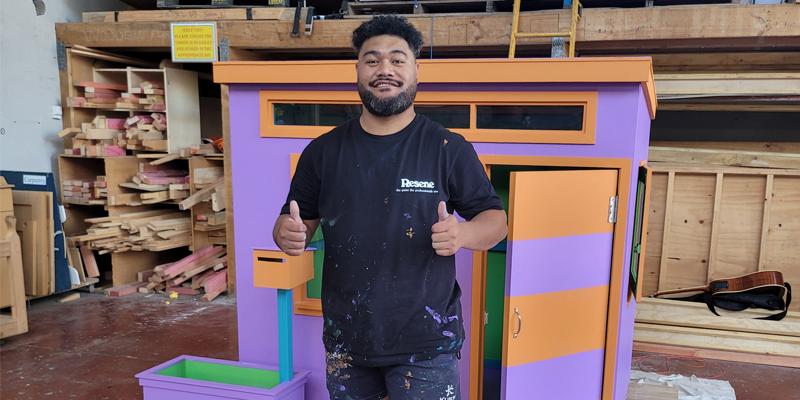 Tuaine Ruatita
BCITO acknowledges and congratulates the four regional winners:
Upper North Island - Bostyn Parker from NM Paint Co, Auckland (Nick May)
Lower North Island - Tuaine Ruatita from GDPD Ltd, Manawatu (Gary Dyer)
Upper South Island - Anna Julian from Total Decorating Ltd, Nelson (Aaron Mallinson)
Lower South Island - Dylan Bartlett from Jeff Allan Paint & Paper, Timaru (Jeff Allan)
With the ongoing Covid disruptions, the awards were postponed in 2021. However, Master Painters managed to hold the event in February this year in Christchurch.
The four regional finalists competed in the practical element of the competition at ARA in Christchurch with the support of ARA tutors. For this competition, the challenge for the finalists was decorating a children's playhouse. Despite the playhouses being larger and more detailed than the previous years, all finalists were able to complete their playhouse within the given timeframe.
A big shout out to Master Painters, the awards sponsors, the finalist's BCITO Training Advisors, their employers/trainers and their whanau for the support given to them during the competition as well as throughout their Painting & Decorating apprenticeships.
The 2022 Master Painters Conference will be held 1-3 September in Blenheim. We look forward to seeing what the 2022 Apprentice of the Year competition will bring later this year.
More News
Jess Nielsen stands out as a trailblazer after placing third at the 20th Annual Registered Master Builders Apprentice of the Year competition; the first woman to place and the second ever to reach the national competition.
You may be aware of the Government's intention to disestablish Te Pūkenga | New Zealand Institute of Skills and Technology.