Off the grid for 48 hours
This year BCITO gave twelve industry people the opportunity to go completely off the grid for forty eight hours with twenty four apprentices at Outward Bound in Anakiwa.  
On May 10
Stu Martin
of
SMJ
was one of the lucky twelve who begun their official two day Outward Bound course.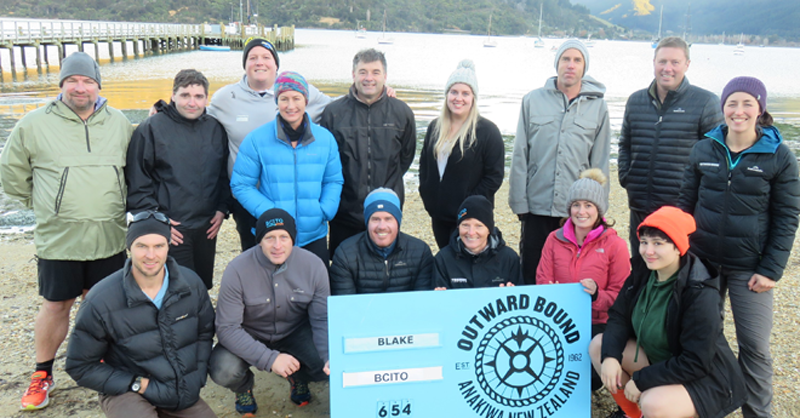 Stu Martin (front row, three from the left) at Anakiwa with the rest of his watchmates.
Stu says "my immediate uncensored response when offered a place on the two day course was WOW what an opportunity. Then time passed and life went back to normal, but I caught myself thinking about the upcoming two days every now and then which led to apprehension. I knew about Outward Bound but I didn't really have an understanding of what Outward Bound was all about. "I had to put my concerns to rest through seeking the knowledge and validation of close family and Google - all roads pointed to YES, this was an opportunity not to be missed and a challenge I was up for.  
"Outward Bound paperwork soon followed which I worked through filling out the compulsory fields reinforcing that I was up for an experience of a life time.  Completing the medical form gave me time to reflect where I was physically, knowing that as much as the mind is still twenty five years old my body is not – also a good reminder for us blokes to keep up with regular checks.
"Having begged and borrowed the gear, the last thing to pack was my mind-set.  I chose to take complete open mindedness with a 100% buy in of what-ever was ahead.  The fact was it wasn't just about me Stu Martin - I was going to be in a group of complete strangers all of who would be in exactly the same position as me.
"Fast forward thirty nine days not quite MAFS but I was sitting with twelve others at the Picton Ferry Terminal embarking on two days of challenges set to test me physically and stretch me mentally.  Finn and Emma, our Outward Bound instructors welcomed us and gave a short reminder: "you will be told what you need to know".  
"Four hours later six oars pulled back up into the cutter as twelve stepped onto the jetty at Anakiwa as "Blake Watch".  We'd bonded.
"As part of Blake Watch we got to engage and interact with two Apprentice Watch groups who after fourteen days at Anakiwa opted to share with us how they see the world while we listened without prejudice. I thank them for their honesty. As an individual and an employer it reminded and reinforced that we do have good kids in our industry.  
"I love the comment "building people for a better future" and for the ITO to partner with Outward Bound in delivering the opportunities to build better people is exemplary.
"As much as my time at Outward Bound was one of twelve in the Blake Watch, this was my chance to see me, and me in my relationship with loved ones, family, and our employees in day to day life. Yes, I can adapt and knew I wouldn't shy away from a tough spot or a high rope; but I hadn't packed for the emotions.  Feelings of appreciation for the people at home, who support, encourage and back me 100% at all times. 
"My Anakiwa fridge magnets (key takeaways) … 
The little things count the MOST 
Show a lot more appreciation for the awesome people who support me
Accept I'm happy when I'm challenged 
Remember that I have never felt any better sitting down for breakfast than after completing early morning physical training, a run and a cold water shower 
"Fourteen days isn't for everyone, but to have the opportunity to experience two days is a must. Attending Outward Bound is a yes!!" 
More News
PRESS RELEASE 14 MAY 2020 - Speaking today after the announcement of the Budget and the $1.6 billion Trades and Apprenticeships Training Package, Warwick Quinn, BCITO Chief Executive congratulated the Government.
A summary of the meeting held on 7 April.