Advanced in the industry
When Duncan Hedgecock, owner-operator of Advanced Brick & Block Ltd was working on the fishing boats as a young man he had no idea that he had a long career in the brick & block industry ahead of him.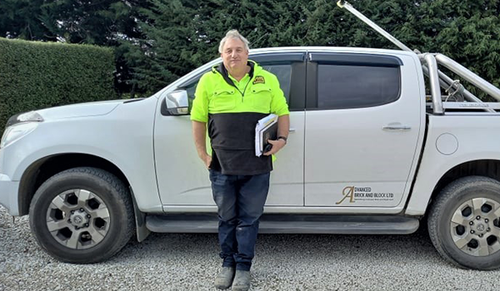 But that is exactly how it has worked out. "I have been in the brick & block industry since 1974," Duncan says. "I was in Akaroa as a young lad and working on the fishing boats when one of the motors blew up and the boat was out of service. That's when people started asking whether anyone was interested in doing some labouring in the brick & block trade. From there I joined the Army and did my time before returning to the trade and starting my own company, my career in the industry grew from that point on."
When you think of brick & block companies in the Canterbury region, Advanced Brick & Block Ltd is certainly one that springs to mind. Duncan says, "The business has been in operation for over 28 years now and we have always been in favour of training our staff right from the beginning. We have always had the thought process that everyone needs to start learning from the day they start with us, and since BCITO have taken over the apprenticeship system we have been putting our apprentices through formal training with them."
Over the years, Duncan and his team have taken on a number of apprentices and seen them right through their apprenticeship and into life as qualified tradespeople. The business certainly understands the pros of apprenticeship training but Duncan also has his own reason as to why apprenticeship training is so important. "I wish to give back to the industry that has given me so much, but also as we move forward I know that both our clients and the rest of the business expect to have qualified and skilled staff working on our jobs. I have a catchphrase that I use which is a company is only as good as its junior apprentice."
With 47 years behind him in the brick & block industry and a swag of successful apprentices who upskilled into tradespeople, it seems appropriate to ask Duncan what advice he would have for those employers thinking about signing up an apprentice. For Duncan, it's pretty plain and simple. He says, "Make sure you take the time to select the appropriate employee, and once you have done that you need to ensure that you have a sound employment contract in place to protect both yourself and your apprentice." Every day is a learning day, and at Advanced Brick & Block Ltd it's certainly clear to see that they live this mantra day in and day out.
More News
We have put in place a vaccination policy and process that allows us to protect everyone and meets the requirements of the Covid-19 Protection Framework (traffic light system).
New Zealand Master Joiners Otago Chapter, BCITO and the National Kitchen and Bathroom Association have been holding a graduation ceremony for Joinery and Kitchen Design apprentices for ten years.