Aluminium Joinery and Ariana - a perfect match
In 2016 when Ariana Simmons went for a job interview at Fairview Aluminium Whakatane Ltd she would never have dreamed that it would lead to an apprenticeship in AAJ.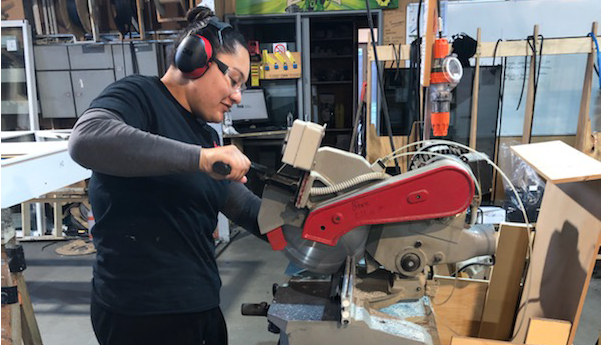 Ariana says, "I had pretty much been doing bar work or office work since I left high school, so when I interviewed at Fairview Aluminium Whakatane Ltd I presumed it was for an office role. It wasn't till I got the job that I found out I was actually going to be in the factory working with aluminium joinery." Fast forward three years and Ariana has now completed two years of her apprenticeship and life as a qualified aluminium joiner is not far away.
Ariana's time in the industry has given her great enjoyment but it wasn't all smooth sailing. She says, "I was a bit nervous at the start as I was the only female in the factory and not 100% sure on what I was getting myself in to." Ariana credits the team at Fairview Aluminium Whakatane Ltd for getting her past this stage. "I am really lucky with the I guys I get to work with, they have helped me so much. I enjoy the physical hands-on work that this job brings, it has been nice to get a break from the customer service type work I was used to," she says.
Her BCITO Training Advisor, Scott Braithwaite, has been impressed with Ariana from day one.  He says, "Working in a male-dominated industry, she continues to excel every day. Ariana has shown great maturity and a drive to succeed during her time as an apprentice that it has made her employers stand up and take notice." Scott believes it's these characteristics that have led to Fairview Aluminium Whakatane Ltd placing added responsibility on Ariana in the factory and it's something she has taken in her stride.
Architectural Aluminium Joinery (AAJ) like many across the construction industry is another male-dominated sector. Ariana is one of only seven active women currently undertaking an AAJ qualification with BCITO. She has some simple advice for those women thinking of getting into the construction industry, "Just go for it! Go in with open eyes and be willing to give everything a go, you never know what it could lead to in the future," says Ariana. 
The AAJ industry is lucky to have an advocate like Ariana Simmons and we are sure she will continue to grow as a qualified professional.
More News
PRESS RELEASE 14 MAY 2020 - Speaking today after the announcement of the Budget and the $1.6 billion Trades and Apprenticeships Training Package, Warwick Quinn, BCITO Chief Executive congratulated the Government.
A summary of the meeting held on 7 April.