Aluminium Joinery's finest
After Covid-19 wreaked havoc on most of 2020, including the Window & Glass Association NZ Gala Awards night, 2021 brought us another chance to celebrate the achievements of our apprentices.
On Friday, 9 July, the Window and Glass industries got all dressed up and made their way to the Cordis Hotel in Auckland for the 2021 Window & Glass Association NZ Gala Awards Dinner. With our large number of entries received, judging was undoubtedly tough in 2021, but there could only be two winners at the end of the day. A big congratulations must go to the AAJ Most Promising Apprentice, Jack Marks from Insite Facades Ltd in Auckland, and to AAJ Apprentice of the Year, Leon McClelland from Native Timber Joinery Limited in Te Awamutu.
For Jack Marks of Insite Facades Ltd, being recognised as the AAJ Most Promising Apprentice for 2021 was a huge honour and something that made him feel proud. "A lot of time can pass as you work hard and learn your craft in a particular industry, so it was a nice feeling to be able to take a step back for a moment and look at how far I have progressed. It certainly is a great feeling to be appreciated for the work I have been putting into my career," says Jack.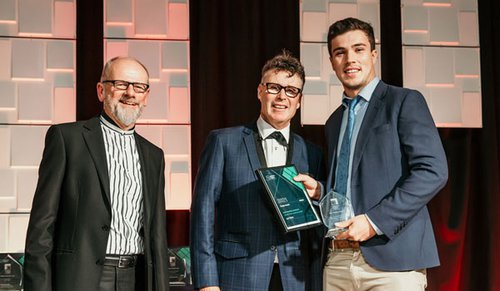 Speaking to Jack, it is clear that he believes that the sky is the limit for what he can achieve in this industry, but he is certainly happy working away with what's in front of him for now. "Getting the opportunity to work around the great mentors I have and learning every day is a great motivation. I look forward to all the different projects I will get to be a part of as I continue my work in this industry," Jack says.
In the hidden gem of Te Awamutu, you will find the very progressive Aluminium Joinery company Native Timber Joinery Limited, and within their ranks is the 2021 AAJ Apprentice of the Year Leon McClelland. Winning this award meant a great deal to Leon, "I left school at 14 and didn't really have anything going for me for a while, and then one day it just hit me that I needed to start working on my life," Leon says. "When I got a job at Native Timber Joinery, I put my head down and worked hard for four years, hardly taking any time off, working overtime and completing two AAJ apprenticeships in that period. So it was pretty cool for all of this work to be acknowledged with this award."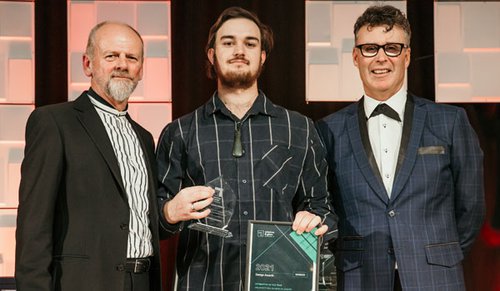 After already completing two of the Aluminium Joinery apprenticeships, it is no surprise to hear that Leon has some more training on his mind as his career progresses. "I want to finish all the qualifications in the AAJ suite and then maybe even branch out into a new trade to get more qualifications behind me. Hopefully, this will put me in good stead to one day own my own business." Jack Marks and Leon McClelland are two names we are sure to hear of a lot more of as they continue to make waves in the Aluminium Joinery industry.
More News
We have put in place a vaccination policy and process that allows us to protect everyone and meets the requirements of the Covid-19 Protection Framework (traffic light system).
New Zealand Master Joiners Otago Chapter, BCITO and the National Kitchen and Bathroom Association have been holding a graduation ceremony for Joinery and Kitchen Design apprentices for ten years.