Andrew and Myles chat about the women in their businesses
Andrew Bellamy of Wood Solutions and Myles Sellers of The Sellers Room reflect on 63 years combined in the timber joinery trade and share their experiences with hiring women and the positive impact on their businesses.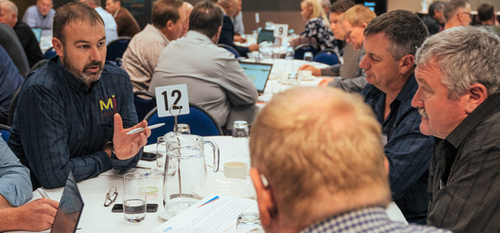 Andrew recounts that he hired his first female employee 22 years ago. "Before she started, as a team, we had multiple conversations about what it would be like and changes we might need to make like posters on the wall and how the guys would take her into the environment. We talked with Cathy about entering an ultra-masculine environment. We were more worried than we needed to be. We talk with all employees about the language used in the workplace, and if it offends you, there is the structure there to sort that out. We don't make it about individuals, just make it a conversation."
Was it worth it? Andrew says, "Without a doubt, yes! We noticed a lift in production. Cathy worked hard, and the others started pushing themselves to be better. We now have four female staff on the tools, and it's really strengthened the company. Problem-solving has improved as women are not afraid to talk through ideas. There has been an increase in sharing knowledge and skills. Women aren't afraid to ask questions or say they don't know something. Men don't like to be vulnerable or look like they don't know something. This has helped our male staff ask more questions too. We've seen an overall lift in trust and confidence."
Myles tells us that he employed his first female employee 16 years ago. "Seventy per cent of our clients are women; we respect them, so it wasn't such a big transition. The culture of smoko talk was a bit rough, and cleaning that up has not only made it a better place for their female employees it's also made it possible to bring clients into the workshop, and we are proud to have women on the tools. It's been really good for business. The women that work for us are girly girls, and we want them to be themselves. Every person in our company is important."
Myles has recognised business efficiencies in his business too. "Annie quickly became our second quickest box builder. I put the challenges in front of her, and she ran with them. She's the first apprentice I've had to make their time within six months."
And it's the other behaviours and attributes that women have brought to his business like tracking the materials being used and preparation at the end of the day to begin work the next day.
Both Myles and Andrew agree that the women in their business are leaders and have risen so quickly. "Conversations improved, and our staff are now more respectful of women in general."
An observation they both make is that "Women research and make a conscious choice to enter the trades; they arrive invested and committed. They see the things that can be produced in joinery - the art form, the attention to detail. In contrast, some guys (not all) tend to fall into the trade. Women have passion, and passion is something that makes a good employee."
But what about women not being strong enough? "Lifting is about technique. If you are concerned about women not being able to lift enough, you need to be looking at your lifting processes. Having women onsite has changed the culture around lifting and doing it more safely, keeping the whole team safe."
Has it been hard for the male staff members? "They have adjusted well, and our foremen are amazing. The team see the benefits of diversity and know-how to work to the teams' strengths to complement each other." Andrew advises, "If men are feeling concerned, work with them on their insecurities."
Myles advises, "It's important to take a hard line on any discriminatory behaviour. Make sure people know what is expected of them and don't accept or tolerate anything else."
Their advice to other employers thinking of hiring women? "It's a simple decision. It can be a difficult step to take, but you won't look back. Reach out to other companies that hire women. They will be able to share with you how it's a wise business decision. The positives far outweigh any negatives.
"Not all women will be right, but many are. How many guys have you employed that haven't worked out?! Overall we find that the failure rate with women is lower than men.
"The younger generation male tends to go through a dip when they leave home. You don't seem to get that with women. For them becoming a joiner is a vocational choice, and as a result, they are more motivated and more focused.
"Hiring women has increased efficiencies in both our businesses. If you don't hire women, you won't see growth. Hiring women in our companies has been the secret to success!"
Andrew and Myles top 5 tips for hiring women:
Make sure that advertising is gender-neutral. You can test your ad here.
When you receive CVs from women, rank them higher as the additional productivity they will bring to your team is worth it.
Connect with your local high school. They are the pipeline of upcoming talent. Let them know you are keen to hire an apprentice and you are open to any gender.
Connect with BCITO and have a conversation with your local training advisor.
Be part of a construction careers tour. Timber joinery is a fantastic trade to display. It has the "wow factor." Women are a lot quicker to ask questions, and it's a great way to connect with future employees.
More News
When Charmaine Farquhar took a temporary role in the office of Palmerston North's Viridian Glass, she had no idea it would set her up with a career for life.
When Manson Jenkins was in his final year of college, he was working part-time at Orchard Joinery cleaning the workshop. Now in his second apprenticeship, Manson is making his way forward and forming a career all his own.