Building apprentice to kitchen designer
Parapine ITM Alyssa Gonzáles wins CDS education scholarship.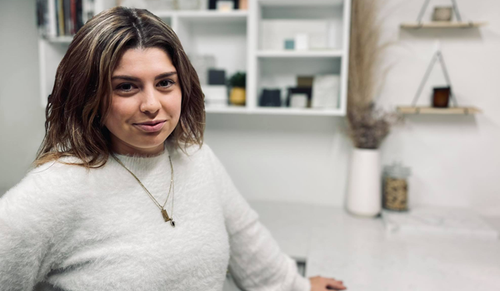 In 2014, the Certified Designers Society (CDS) established educational scholarships to reward students showing potential in the field and who have a genuine need for support to accelerate their learning journey in the kitchen industry. A designer needs to be nominated, and this year Alyssa (Aly) Gonzáles of ITM was the awarded recipient.
Aly, half Peruvian, half Kiwi, is a mother of two young girls, a wife, avid home renovator, NKBA design student, and Kitchen Design Manager. Aly's career started in construction but not in kitchen design.
At a young age, she developed a passion for patterns and composition through observing her architect father hand draw sketches and plans on sizable drafting tables at home.
Through her college years, she excelled in graphic design, art history, and architecture studies. Many years after that consisted of jobs managing people in retail and hospitality settings, although a design flair was always lacking.
These experiences combined to influence and inspire her to explore building by signing into a BCITO carpentry apprenticeship. Unfortunately, due to a lower back injury, this pathway was cut short. However, through this, Aly gained an understanding of structure and an interest in fabrication. In her spare time, she would submit building consent plans to local councils for approval, educating herself in the 2004 Building Act and relevant codes along the way.
This journey of self-development lead Aly to Parapine ITM, an owner-operated family business. Over the past 43 years, they have built a strong reputation and customer base in trade and construction, servicing the Hutt Valley and Wellington region with a 'we'll see you right' attitude. Over the past three years, they have rapidly increased their kitchen and interior design with their retail, trade, and housing company clients providing an excellent design service and superior product through UNO. UNO is a New Zealand-made, custom flatpack option offered exclusively through ITM nationwide.
Aly shares, "I genuinely enjoy my role, work for a company which I respect and have shared values with. I pride myself on providing exceptional service, with the drive always to exceed my customers' expectations.
"As each ITM is a co-operative made up of 96 independent businesses, they each provide their own approach to kitchen design services. I hope to influence the business owners to see the potential within their company by showcasing what is possible. With limited support, I am demonstrating how the NKBA Diploma in Design can be beneficial to a designer's personal development and contribute to the business's financial success.
"I am solely responsible for the complete process from start to finish, including the people and resource project management required to produce a finished kitchen.
"I have two housing companies I design for alongside retail and trade clients. I have the privilege to support local suppliers and collaborate on projects with chosen businesses that share our values.
"I believe the NZ Diploma in Design is a fundamental requirement to professional development in this industry. The block courses delivered by NKBA were informative and inspiring, providing the opportunity to network, share perspectives, learn and benefit from other designers' advice and experiences.
"My future as a kitchen designer will always include continuous professional development. However, this scholarship will help immensely in providing the support to educate myself, acquire NKBA membership, attend the conference, and enter awards, all combining to impact my professional reputation and trajectory positively."
"I am constantly in the pursuit of a healthy balance between work, home life, and study. However, my aspiration is, and always will be, to be a successful and influential New Zealand designer.
BCITO congratulates Aly in securing a CDS Scholarship and Parapine ITM for recognising the business and culture value that a formal education and professional development brings.
More News
We have put in place a vaccination policy and process that allows us to protect everyone and meets the requirements of the Covid-19 Protection Framework (traffic light system).
New Zealand Master Joiners Otago Chapter, BCITO and the National Kitchen and Bathroom Association have been holding a graduation ceremony for Joinery and Kitchen Design apprentices for ten years.