Apprenticeship done? Trade up to qualified supervisor.
Rick Biddle of Tauranga Plasterers was sick of working in a cool-store.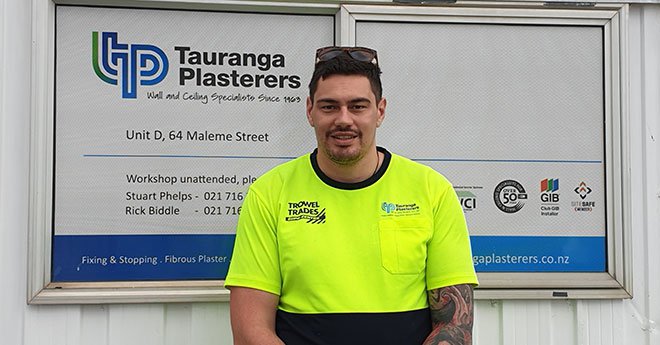 When his uncle offered him an interior plastering apprenticeship he warned him that it isn't the easiest job, but Rick still jumped at the opportunity.
Rick says, "You need an eye for detail and to take pride in your work. I like to do the best job I can – to make it mint. That's when you get the job satisfaction out of it. My previous job was not satisfying, doing the same thing every day, but now I can see how grateful people are that you have done a great job for them." Rick completed his BCITO Plaster Board Fixing and Finishing Qualification in 2015.
"You have to want to progress," says Rick. And so he has. He has now worked his way up to a Supervisor's position and has completed the BCITO Construction Trades (Supervisor) Level 4 qualification. "Every day is different in this role," says Rick. "As a Supervisor you develop work schedules, consult with project managers, buy tools, organise first aid kits and get involved in advertising for new staff." He loves the variety and flexibility that his role now involves. 
The Supervisor qualification has helped him with his communication. He has learnt good time management techniques for scheduling work, and also conflict management, skills he has had to use over the past two years! Using the course learnings, and with mentorship from his employer Stuart Phelps, Rick is now developing all the company's contracts.
In the future, Rick is hoping to expand the scope of the work that the company does. This will allow him to develop additional skills while overseeing a broader range of work. "My focus is always for the company to keep doing good work so that we keep getting work," he says.
Rick encourages people to step up to the Trades and look at the Supervisor qualification. "There is so much work on. When I was growing up Uni was the big thing, but you don't have to go to Uni – there are other options. You can be a professional tradesperson and enjoy what you do. You can make it, have the boat, car and house. It is still a lot of hard work – just a different style."
More News
The Building and Construction Industry Training Organisation (BCITO) has set a record of 16,000 apprentices in training.
Have you heard? – the NAWIC Excellence awards 2021 are happening and open for nominations!