The Arches in Mission Bay
When you ask someone what they know about the construction industry, most people will come back with comments about residential homes being built.
The commercial construction sector is a completely different story from residential that is played out on a much bigger scale, with a lot more risks and rewards. We caught up with Josh Dunn, a Site Engineer for CMP Construction in Auckland, to hear a little bit about his journey in the industry and a major project CMP is currently working on.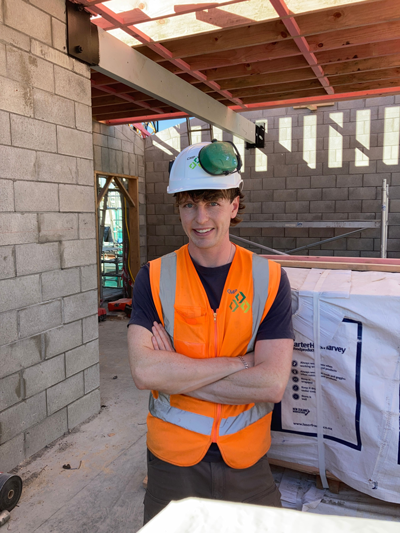 Josh, how did it all begin for you in the construction sector?
I studied civil engineering at University back in Ireland. While there, I spent a summer as a research student in Japan and also spent six months at a design office in Dublin. I found both research and working in consultancy to be a bit slow-paced. Once I finished uni, I began working with a main contractor and haven't looked back. Every day is different on site as everything is live right in front of you, as well as being all programme driven. It's a lot faster-paced, and you're exposed to all elements of the project. Working in construction with a main contractor such as CMP exposes me to solving a variety of buildability and structural problems daily, requiring time and cost saving solutions.
What brought you to NZ, and how did you end up with CMP?
I always wanted to travel from a young age and knew that working as an engineer, particularly in construction, would allow me to travel the world. I initially moved over to Auckland on a working holiday visa with three other friends. After sending out CVs to a handful of main contractors, CMP was the only one to get back to me. I interviewed on a Friday and began working the following Monday as a site engineer. I was put in the deep end on a $40m design-build project featuring 99 apartments over two basements with a great project manager as my lifeguard - that was nearly two and a half years ago, and I'm almost finished my second project with them, ready for a third. That first project, Neo Apartments, won the NZIOB Award 2021 for the $35-$45m category.
Tell us about the project you are working on
I'm currently working on a $17m, 21 unit apartment block called The Arches, located in Mission Bay. The name gives rise to over 25 insitu concrete and 20 precast arches, including two 13 tonne 8m-wide feature arches. It's three storeys over a single basement with an 18-month build programme. The design is based around the constraints of a very high water table due to the site being within a few hundred metres of the beach. The foundations consisted of 9m sheet piles driven all over the building footprint to retain the water, followed by bored concrete piles. The basement floor had been designed as suspended because the water pressure from below is so great, and the building has been designed to not 'float away' from this uplift pressure. We're currently at the critical stage of beginning to get our roof on with most of the structure finished, pushing for weather tightness. We've got about 50-60 guys on site with more to come.
What challenges have you faced with the project, and how have you overcome them?
Initially, the biggest hurdle to overcome was having the water table 1m below the current ground level. We were excavating 2m beyond this – the bottom of our lift pit was actually below sea level. We managed to survive three weeks of intense sheet piling, much of which involved ensuring the neighbours were on side with the extensive noise and vibrations during the works - not all of the issues on site require a technical response but involve dealing with people directly to ensure we're able to get the job done the best we can.
The high water table meant we had pumps running 24/7 during the piling and bulk excavation stages to keep the site operational. Covid closed us down for five weeks last spring like all other sites. The team all worked from home to plan for the rest of the job, reviewing shop drawings, chasing up missing information from the consultants, and planning the remainder of the job. CMP was supportive and encouraging of this approach during the lockdown.
What do you enjoy most about commercial construction that would entice others to join the industry?
Commercial construction allows you to be part of the entire lifecycle of a building, from the site set-up into the groundworks, all the way through building completion and handover. CMP allowed me to stay on my first project until Practical Completion was reached, making it extremely rewarding for my own learning. Seeing a building being built in its entirety is unique. Compared to the consultants, the experience you gain and lessons learnt on site are like no others. You don't just think about the structure; you need to think about how your services tie in or what the architectural finish is going to be – if you make one mistake, what other trade or area will it affect?
There is a new sense of achievement every week on site, whether it's completing the last pile, pouring the next floor or bringing in your first Gib delivery – no other industry will provide you with as many physical results of your work.
More News
Jess Nielsen stands out as a trailblazer after placing third at the 20th Annual Registered Master Builders Apprentice of the Year competition; the first woman to place and the second ever to reach the national competition.
You may be aware of the Government's intention to disestablish Te Pūkenga | New Zealand Institute of Skills and Technology.