From aspiring cop to Brick and Block
For Calley Gibbons of XL Brick and Block, it wasn't always the trowel and mortar that he pictured in his future, rather the flashing lights and sharp blue uniform of the New Zealand Police.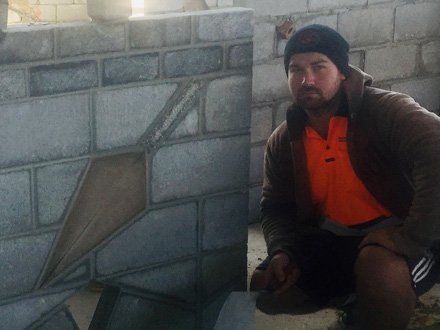 In 2013 whilst in the middle of trialling for the police, Calley started working for his father Ron Gibbons at Mandron Masonry Ltd. "After 6 months of working with my dad, I decided to withdraw my application with the police and pursue an apprenticeship as I was enjoying learning the craft whilst making reasonable money," says Calley.
Over the following years, Calley would continue honing his skills working for his father and completing the National Certificate in Brick & Blocklaying with BCITO. For Calley, what he enjoyed most about the apprenticeship process was all the different challenges that came with every job. "Turning up to work each day and figuring out how to complete a job to a high standard, whilst continuing to be efficient gave me that real sense of pride that comes with being a tradesman," he said.
In 2016 at the annual BBFNZ Conference in Invercargill, Calley was recognised as the winner of the Silver Trowel Award for Apprentice of the Year. "Winning the Silver Trowel Award was a goal I had set myself right at the beginning of my apprenticeship, so to win it and have my family and partner present was humbling. My dad has been in the industry for nearly 50 years and throughout my apprenticeship had passed his knowledge on to me. So as well as wanting to win the award for myself, I wanted to win it for him too as a way of saying thanks for all the time and effort invested in me. Winning the 2016 Silver Trowel will always be one of my greatest achievements," he said.
In 2017 Calley took the next step in his career by starting his own business, XL Brick & Block which he still runs today. He has enjoyed learning about the other side of brick & block laying, this includes pricing jobs, material quantity and just organising the job to ensure it runs smoothly. Calley was invited on to the Brick & Block National Advisory Group (NAG) in 2018 where he has been actively involved in helping develop the industry. "I get to apply my knowledge as a relatively new tradesman and business owner to help with the apprenticeship structure and help grow the industry. At the end of the day it's all about building and giving back to the industry for future brick & block layers," he said.
More News
As free trades training starts, being an apprentice and training in trades have become so much more attractive.
WorkSafe would like to ensure that you are aware of the risks of working with engineered stone benchtops, used primarily in bathrooms and kitchens.