Award winner takes control of her design destiny
BCITO - Te Pūkenga apprentice Victoria Gaylard, this year's winner of the National Kitchen and Bathroom Association's (NKBA) Most Promising Kitchen Design Student Award, has taken complete control of her professional development.
Victoria's progression is even more impressive given she only started in the interior design industry 4½ years ago. Prior to that Victoria was a physiotherapist and then a stay-at-home mum for many years - back then, her passion for interior design was only an interest.
For Victoria, the diploma has given her a pathway to specialising in kitchen design – something she didn't know was possible. A big part of BCITO's advocacy efforts is encouraging more people to pursue qualifications in the trades. As Victoria's award attests, anything is possible if you have the drive to learn and push yourself.
Victoria's journey, from interior designer to designing bespoke kitchen and bathroom cabinetry, really kicked off in the years at home looking after her kids. It was during the interlude that she enrolled in an interior design programme and took on some part-time CAD drawing work.
"Learning how to use 3D modelling software opened my eyes to the design opportunities in kitchen and bespoke cabinetry design. While I had worked part-time as a CAD drawer for three years, I knew I needed a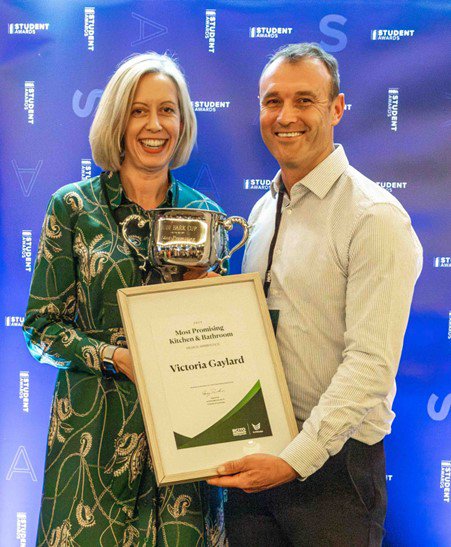 formal qualification in Kitchen Design, to be able to specialise in this area."
Since enrolling in the NKBA Diploma in Kitchen Design in 2022, Victoria has made full use of the learning and networking opportunities.
"I found the NKBA guidelines helpful, particularly the technical side of drawing up designs. While I found those tough initially, it's helpful being able to tap into the expertise of others – be it my NKBA tutor, Mark Bruce, my mentor, Louise Fowler, or my BCITO trainer advisor, Siobhan McCluskey."
Thus far, Victoria has found the diploma not only a pathway to specialising and raising her own skill set but also a great way to network and stay connected with others in the industry.
''As someone new in the field and still learning, I find the NKBA events invaluable – that's because you're encountering such a wide range of people. From hearing about the latest trends from suppliers, new standards in training, best practices, and new appliances, the events reinforce my knowledge, but also help steer me towards things I may need to look at."
With Victoria wanting to grow her business, she sees the award as recognition that she's on the right track.
"People don't always say it, but it is so worthwhile having a qualification. What I also like about the NKBA is the organisation's new designer tiering system (Bronze, Silver, Gold, Platinum, and Elite) that you can display at your workplace. The awards not only acknowledge time in the industry but are also reflective of professional development undertaken. Right now, I am a Bronze tiered Designer of the NKBA and look forward to moving up!"
Aotearoa New Zealand needs more people from all backgrounds to consider a career in the trades. BCITO has the resources and support systems in place to ensure everyone has an equal shot at success. To learn more, head to https://bcito.org.nz/apprentices/.
More News
Wood Solutions have been carving out the way for sustainable practices and diversifying their workforce. They are minimising and repurposing waste and create a healthier and more welcoming workplace where 1/4 of their workshop are female.
Jenna Toailoa and her husband Manu's RedRock Plastering has been making a name for themselves with their high quality work all the while taking on apprentices, showing it can be done!