House of the Year – awarding excellence in Auckland
Faulkner Construction set a new standard of achievement at the 2021 Master Builders Auckland House of the Year Awards for its crew of 25 carpenters by receiving three Gold Awards across three separate categories with projects led by three different foremen.
How does Faulkner Construction achieve consistently high standards across a large and growing team of builders? We asked their latest Gold Medal Winners to explain.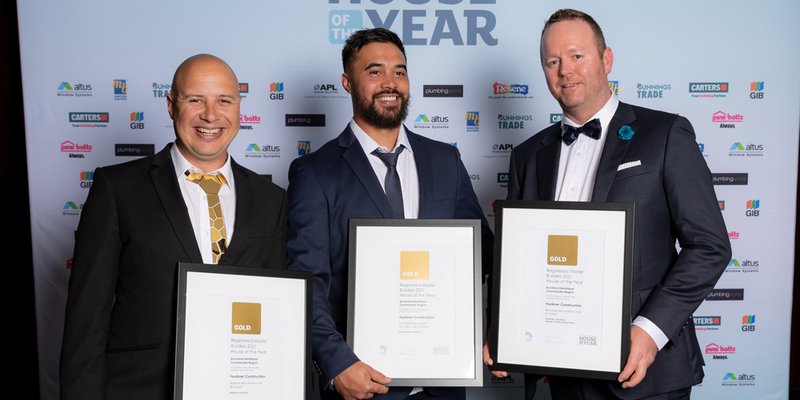 © RMB (l to r: Adriaan Kant, Will Moore, Phil Faulkner)
Adriaan Kant received a Gold Award in the Resene New Home over $2 Million category. He puts the firm's success down to two key factors - a relentless expectation for quality and a deep passion for building.
From the start of his time with Faulkner Construction, Adriaan says that carpenters are immediately introduced to a high standard of quality and craftsmanship. "From the first interview with Ross Faulkner, our carpenters have instilled in them that quality is not negotiable and that a high standard of craftsmanship is expected," says Adriaan.
Ross Faulkner (who started Faulkner Construction 40 years ago) says, "these standards are maintained by growing a team of Foremen – many of whom joined the company as Apprentices.
Faulkner's passion for building is reflected by the team's participation in the Registered Master Builders Apprentice of the Year Awards, which they participate in most years with team members placing first (2010), second (2017, 2020, 2021), and third (2012, 2020) in the Auckland competition.
Will Moore – who received a Gold Award in the CARTERS New Home $1 Million - $1.5 Million category – says that he's been encouraged by the Faulkner team to keep learning and developing himself as a builder throughout his seven-year journey from Apprentice to Gold Medal-winning Foreman. "From the get-go, we are taught to have pride and excellence in our work, in how we present ourselves and how we behave around clients and other sub-trades."
This sets a precedent where everyone strives to build to the best of their abilities, Will says. "Helping our Apprentices to achieve the high standards is a team effort, whether it's Ross checking in to discuss any challenges they're having with their theory studies or the quiz nights they attend with our qualified Carpenters to hone their skills."
As the eldest of three Faulkner sons involved in the business, Phil Faulkner was proud to receive a Gold Award in the Bunnings Renovation Over $1 Million category this year. He's watched his father build this culture of 'Pride and Excellence' over 40 years and a mantra that 'quality is non-negotiable'.
"We love working together as well," Phil says – "there's a great work ethic across the group, and we work hard to maintain a good team culture and working environment on site and socially."
"But it's also about the small things that we do every day - whether it's giving positive feedback when something has been done well, helping a young builder to develop a better eye for detail, asking them to explain how they're going to work through a task, or sharing insights with workmates about new ways of doing things. We've created a great building company by encouraging our people to become great builders."
More News
We have put in place a vaccination policy and process that allows us to protect everyone and meets the requirements of the Covid-19 Protection Framework (traffic light system).
New Zealand Master Joiners Otago Chapter, BCITO and the National Kitchen and Bathroom Association have been holding a graduation ceremony for Joinery and Kitchen Design apprentices for ten years.