Awards must go on
Unfortunately, as with many events, COVID-19 caused the cancellation of the Window & Glass Association NZ Conference and Gala Awards for this year. 
With the apprentices in mind, a decision was made by the Window & Glass Association NZ and BCITO to go ahead with the apprentice awards for Architectural Aluminium Joinery (AAJ) and Glass & Glazing. Although our winners didn't get to experience the glitz and glam of the Gala Awards evening, they were all awarded their trophies and certificates at workplace presentations, and were able to share their success with those most responsible for their growth in the industry.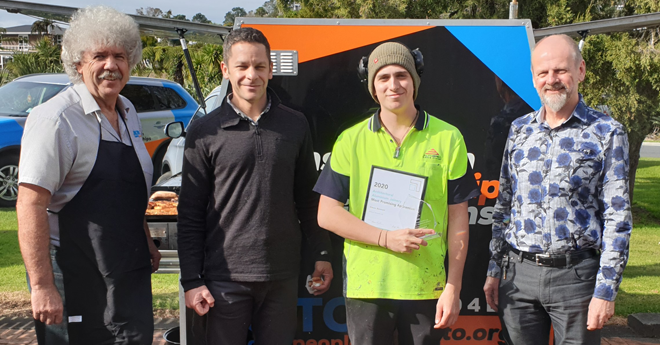 (l to r) BCITO Training Advisor, Graeme Fairclough, Simon's employer Hamish Neale, Simon Bennett and Brett Francis, CEO, Window & Glass Association NZ.
For Simon Bennett of Altherm Taranaki Ltd winning the AAJ Most Promising Apprentice award for 2020 meant a great deal. "Winning the award means everything to me, it shows that all of my hard work has paid off and I can achieve anything that I put my mind to." BCITO Training Advisor Graeme Fairclough says since Simon started his qualification with BCITO he has always been engaged. "Simon is very attentive, asks lots of questions and is always prepared for visits and assessment. All discussions with his employer and factory manager have indicated his positive and friendly nature make his training very easy."
Talking to Simon it is clear to see that winning the Most Promising Apprentice award is only the beginning, "I feel like winning this award is only the start of the journey for myself after seeing what I have accomplished and what I can do. Next year I want to strive for the Apprentice of the Year Award, to do this I will continue to work my hardest and take in all the knowledge I possibly can from those around me," he said. Simon Bennett is sure to be a name we will see in the AAJ industry in the future.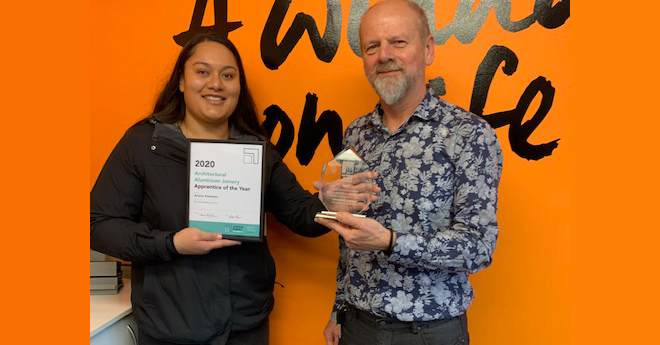 Ariana Simmons with Brett Francis, CEO, Window & Glass Association NZ.
When Ariana Simmons of Fairview Aluminium Whakatane Ltd received the news she was this year's recipient of the AAJ Apprentice of the Year Award it took a while to sink in. "I didn't think I would have a chance at all knowing you were up against all these other Aluminium Joinery apprentices in NZ. But when my BCITO training advisor gave me the good news I was pleasantly surprised," she said. For Ariana this award is a recognition of all the work and effort she has put in to her apprenticeship, and as she puts it, "The time and patience put in by my workmates to help me achieve this feat!"
Ariana has grown into a real leader at Fairview Aluminium Whakatane and she has real aspirations to progress with her company. "I am really interested in a more managerial role within the business, I have already started learning the office side of the business which has been great. I just want to keep learning as much as I can within the industry, from office to production to installation." As for advice to those apprentices aspiring for the Apprentice of the year Award in 2021 she says, "Don't be scared to ask a lot of questions and show eagerness to learn anything and everything you can when it comes to Aluminium Joinery."
More News
The Building and Construction Industry Training Organisation (BCITO) has set a record of 16,000 apprentices in training.
Have you heard? – the NAWIC Excellence awards 2021 are happening and open for nominations!