BCITO apprentice takes home the win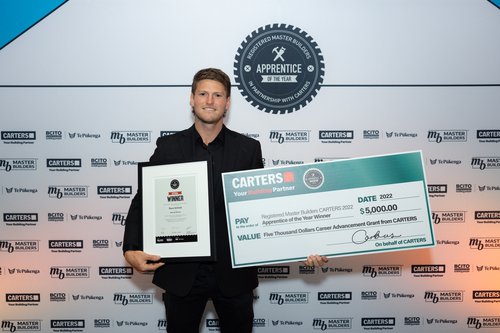 "Having that recognition was very humbling – especially as my family, good friends and boss were there to celebrate with me."
Dane, like many others, chose to enter the trades after experimenting with other career paths,
"Before starting my apprenticeship, I went to America on a football scholarship. However, after a semester I realised it wasn't for me and came back to New Zealand looking for my next move. It was shortly after this that I ended up training with BCITO. Winning this award was special, as in a way it cemented that I'd made the best decision for me."
When Dane got back to New Zealand, he started labouring with the expectation he would go to a Kiwi university when the next semester started. However, he grew to love his job, especially the physical aspects of it, so he took the next step and started an apprenticeship.
"My passion for building has only grown, and I've been lucky to have a great relationship with my BCTO training advisor, who's been incredibly supportive of my development. I'm a hands-on and visual learner, so an apprenticeship was the best way for me to effectively learn - it helped me to absorb information and understand the technical requirements better. I was motivated to learn and get my bookwork done from the moment I started, and the BCITO online platform was also really helpful if I ever got stuck."
For Dane, entering the Master Builders CARTERS Apprentice of the Year competition was a great opportunity to push himself out of his comfort zone and see how he stacked up to other apprentices.
"A previous workmate took part in the national competition a few years back, so I knew it was something I always wanted to do. So, when my training advisor, Stephen Nicholson, suggested that I enter in the 2022 competition, I signed up almost immediately. The competition was a real challenge, particularly the practical element, testing us apprentices, both mentally and physically. The pressure of the time limit and everyone watching was a position we don't often find ourselves in. I'm sure every contestant at one stage had a moment where they were completely perplexed. It was very satisfying to finish the build!"
Following the competition, Dane has set himself some goals to ensure he keeps learning and has a fulfilling career in the trades.
"Just because I've won this award doesn't mean I've got all the answers. For the next few years, I want to learn as much as I possibly can about all aspects of the industry, whether it be practical or the theory. My ultimate goal is to run my own building and construction business. I intend to do this by learning from others who have knowledge and experience in the sector. I have a passion for carpentry and would love nothing more than to achieve this goal."
Dane would encourage anyone who is considering an apprenticeship with BCITO to just give it a go, and if you're thinking of entering the Master Builders CARTERS Apprentice of the Year competition, just go ahead and do it.
"Even if you don't place in the competition – it still shows that you are driven and have a general interest in building. There are so many learnings throughout the experience which I don't think I would have gotten without participating in the competition."
All eight national finalists in this year's competition were trained by BCITO.
To find out more about BCITO's carpentry apprenticeship see here, and for further info on the Master Builders CARTERS Apprentice of the Year head to apprenticeoftheyear.co.nz
More News
Earlier this year, BCITO and workplace training provider, Education Unlimited, joined forces to run an Apprentice Support Programme for 15 Te Tai Tokerau apprentices.
Last year BCITO, Te Pūkenga trained glazier, Charmaine Farquhar was awarded the Glass and Glazing Apprentice of the Year Award - something she'd strived for throughout her whole apprenticeship.