BCITO launches women in Trades campaign
BCITO, a work-based learning division of Te Pūkenga, has recently kick-started their Women in Trades Campaign which aims to empower and encourage women to pursue careers in the building and construction industry, breaking barriers and fostering gender diversity in traditionally male-dominated fields.
"This is a critical issue facing our sector, and while we have made some progress, we still have a long way to go," says Amanda Williams, Principal Advisor Women at BCITO Te Pūkenga. "This campaign is about providing practical approaches that can inspire women to enter the trades, and to help employers to attract and retain more women".
"BCITO has experienced growth since 2015, when less than 1% of apprentices in building and construction were women. The number is now above 6%, with carpentry, painting and decorating, and timber joinery attractive trades for women."
"By 2025, BCITO aims for women to make up 10% of apprentices. The sector goal for 2040 is to have women make up 30% of people in the construction trades. Together, we can forge a path of progress, breaking barriers and creating a future of equal opportunities" says Williams.
To help achieve this shift in the industry, BCITO recently launched an online resource platform. The platform encourages employers to better support wāhine employees, while also fostering growth and helping to strengthen the businesses they work in. Over 10,000 BCITO employers have already utilised the online resources, which include strategies for building workplace culture, improving communication, health & wellbeing, and building future leaders.
To highlight the wāhine opportunities available in construction, BCITO have developed a series of profiles and case studies to showcase the trades as a viable option for women regardless of age and stage of life. These highlight five wāhine, by sharing their experiences of working in the trades and how they are defining their futures through the tools.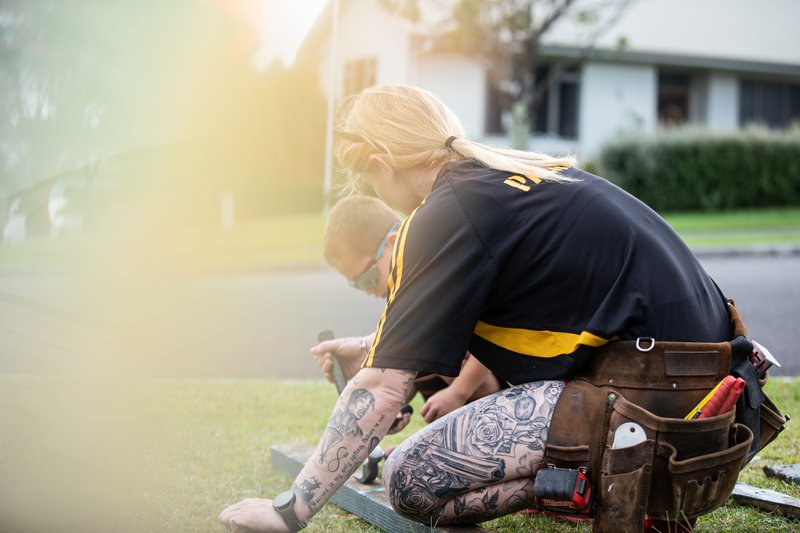 One of the case study features Jessica, who pivoted from her job in hospitality and started an apprenticeship in building and construction to ensure greater stability and structure for her family.
"I hope that my story will inspire other women to find their "rocks", that give them the security they deserve. My passion for building is so strong," says Jessica, "but my passion to build other women up is even stronger".
"The construction industry needs confident, capable and motivated professionals. These women exemplify the extraordinary talent and determination of women in the trades" says Amanda.
"Through their accomplishments, we hope to inspire and empower other women to pursue careers in trades, through a BCITO apprenticeship, knowing that they too can achieve great success."
The Women in Trades Campaign comes at a time when there is a pressing need to address the gender gap in the trades industry. Despite significant progress in recent years, wāhine still face challenges and are underrepresented in skilled trades. Supporting gender diversity and providing more opportunities for women in construction is essential to futureproofing the talent throughout Aotearoa.
"We're keen to create an all-inclusive and all-empowering environment where women feel comfortable, enabling them to thrive and contribute to the growth and success of the trades industry" states Amanda.
With over 35,000 BCITO Te Pūkenga trade qualified professionals and counting, BCITO is passionate about changing people's lives and helping them create successful careers and lifestyles. BCITO want to showcase the amazing accomplishments of women in the trades and inspire others to follow in their footsteps.
More News
Wood Solutions have been carving out the way for sustainable practices and diversifying their workforce. They are minimising and repurposing waste and create a healthier and more welcoming workplace where 1/4 of their workshop are female.
Jenna Toailoa and her husband Manu's RedRock Plastering has been making a name for themselves with their high quality work all the while taking on apprentices, showing it can be done!