BCITO welcomes tiling expert: Stuart Caulfield
At the beginning of September BCITO had the pleasure of welcoming Stuart Caulfield to our Marlborough/Tasman team as a new Training Advisor. Stuart brings with him a wealth of knowledge and experience from his decades of working in and around the tiling industry.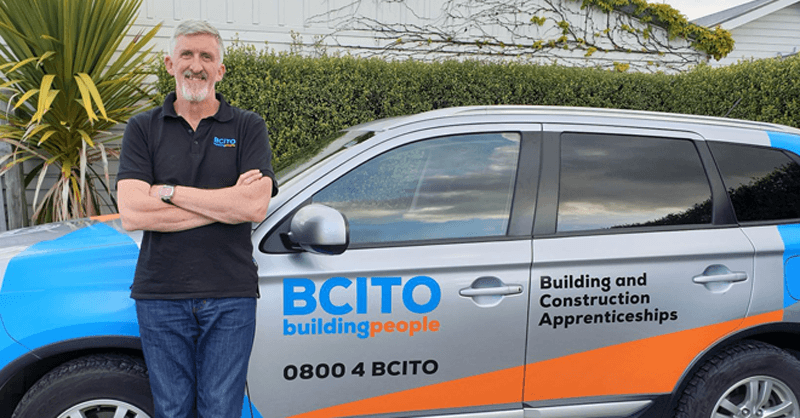 Stuart brings with him a wealth of knowledge and experience from his decades of working in and around the tiling industry. 
Stuart's long career started across the world at his birth place of Northern Ireland. 
Picture a fresh faced Stuart at the tender age of 17 out helping his Mum shopping for new tiles. Stuart says, "I found myself between jobs and the store owner at a local tiling shop offered me a job tiling if I could turn up at 8am the next Monday. Two and a half years later I was a qualified tiler!" 
For the next 19 years the tiling trade took Stuart across the world to the UK, Germany, France, Canada, Australia and back to New Zealand. Along the way he picked up many new skills, tips and tricks while working under master tilers and for himself. 
After settling in New Zealand and working in the local industry Stuart had a career shift and spent the next 6 years working as the South Island technical representative for a European tiling product manufacturer. Before joining the BCITO Stuart had been self-employed as an independent consultant in the tiling and under-tile waterproofing industry. 
Stuart is a strong advocate for the tiling industry and the opportunities it can offer people. He says "Tiling is such a rewarding trade. There's nothing quite like the sense of satisfaction you get when you have completed a job and can look at it thinking, 'I did that!'. Also, tiles are awesome now! When I was an apprentice tiles were almost always beige or white 6-inch square wall tiles and 8-inch square terracotta floor tiles. The range of effects available in the tile shops now are amazing!"
Stuart is looking forward to getting stuck into his new role with the BCITO and is excited to help promote training in the tiling industry and the construction sector as a whole. He says "I am delighted to be working for an organisation that I have promoted and been an advocate of for many years. I'm looking forward to working for BCITO where our role is to encourage the apprentices across the entire industry to excel and succeed. 
"While I am really looking forward to working with trainees in all the trades, I really want to see an increase in numbers in the trowel trades and finishing trades. These trades offer great career opportunities and I look forward to the challenge of increasing trade recognition and the current numbers."
It's my pleasure to be able to formally welcome Stuart to the BCITO Whānau and wish him every success. If you see him out and about be sure to stop and say hi. 
More News
The Government has announced a $12.1 billion COVID-19 Economic Response Package for small to medium businesses and employees during this period of uncertainly.
The health and wellbeing of our industry's employers, apprentices, and our people are of paramount importance to us.