BCITO works together with industry to tackle the future
On 8 November, BCITO Skills Summit 2017 Constructing New Zealand's future was held at Te Papa.  The event brought together industry leaders, Government representatives and BCITO to discuss the current and future skill needs for the construction industry.
The event kicked off with a Karakia Timatanga, welcoming over 200 people. The focus this year was workforce development - raising the capability of our workforce through developing skills and encouraging training.
Watch a short film about the Skills Summit.

Speaker David Storey, the founder of Auto Super Shoppe, proposed that the biggest challenge facing New Zealand businesses is getting staff who are good employees and who have a skill level that can be cultivated.  David said, "One way that we can do this is by offering pre-training to students in secondary school - put an emphasis on youth and prepare them for the workforce before they get here."
Mere Wilson Tuala-Fata and Geoff Theodore, of New Zealand Police, spoke about how the workforce can be improved if we better mirror New Zealand's diversity in the workplace. At present, many minority groups are looked over for employment in the building and construction industry, simply because they do not fit the perceived stereotype of what someone in this sector should look like, e.g. women, Maori, Pasifika, and immigrants - essentially, the New Zealand workforce of tomorrow.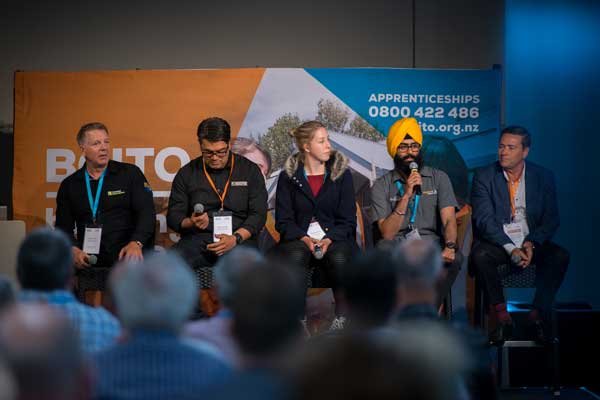 The Summit was rounded off with a dynamic panel of both employers and apprentices, with great discussion around how employers can meet the challenges of the New Zealand of tomorrow. This panel was facilitated by Te Radar and showed that, when it comes to the future of the workplace, employees and apprentices are generally on the same page about the changes and advances that need to occur. "It's nice to see how different industries are engaging with their staff in the workplace; there are so many synergies and parallels throughout the different industries," Greg Johnston, Formstress.
Paul Eaton of Profile Painters says, "The world is changing; we need to accept those changes, and we've got to adjust our businesses for those changes. To be successful, as an industry, we need to be thinking differently and examining different ways of doing things."
The annual BCITO Skills Summit has positioned itself as a leading event for engagement between key decisionmakers; shaping the way that businesses think about the future, to enable the industry to grow its capabilities and meet future needs. BCITO anticipates that the industry leaders present will take the key messages from the day back to their sectors and enable people to start transforming the industry as a whole for the future. "We want to make sure that employers understand what's coming up for them … we've got a lot of future challenges, but we've also got a lot of opportunities," Greg Durkin, GM Stakeholder Engagement, BCITO.
Jacqui Clayton from Viridian Glass Nelson said, "Everyone has got the same struggles. The question is what we are going to do about them?"
Find out more about BCITO's workforce development initiatives.
More News
NAWIC are delighted to have received a significant increase in entry numbers for their fifth annual Excellence Awards, this year in partnership with BCITO. Finalists have been announced today.
The Building and Construction Industry Training Organisation (BCITO) is pleased that the Government is moving quickly to establish the first construction Centre of Excellence (CoVE).