BCITO's 12,000th apprentice paints a bright future
The number of Kiwis engaging in building and construction apprenticeships is at record highs, as the industry's demand for skilled workers continues to surge.
The Building and Construction Industry Training Organisation (BCITO) now has 12,000 apprentices actively training at the same time. This is its highest number ever, but it still needs more.

"12,000 apprentices in training is a record number for BCITO. But it isn't nearly enough. We need many more people to enter the industry and start formal training now if we are to have a hope of reaching targets which will make a small dent in the sector's skills shortages," says Warwick Quinn, BCITO Chief Executive.
"Our apprentices are setting themselves up for a prosperous and rewarding future and it's never been a better time to enter the industry and trade up. Employment forecasts for the construction sector which BCITO covers suggest there will be 37,100 new and 44,500 replacement job openings in the next five years," says Quinn.
In addition, the recently released National Construction Pipeline Report predicts building and construction activity to remain at its current elevated levels until the end of 2020, with sustained growth expected from 2021 to over $41 billion in 2023.
Quinn says the construction sector must diversify and attract more women, Maori, Pasifica and Asian workers. "The record low birth rate in 2003 means the number of school leavers today has never been lower and this is adding pressure an already stretched sector. We have a small window of 4-5 years to address some of our concerns before birth rates plummet to record lows. So, if you think we have a skills shortage now, just you wait."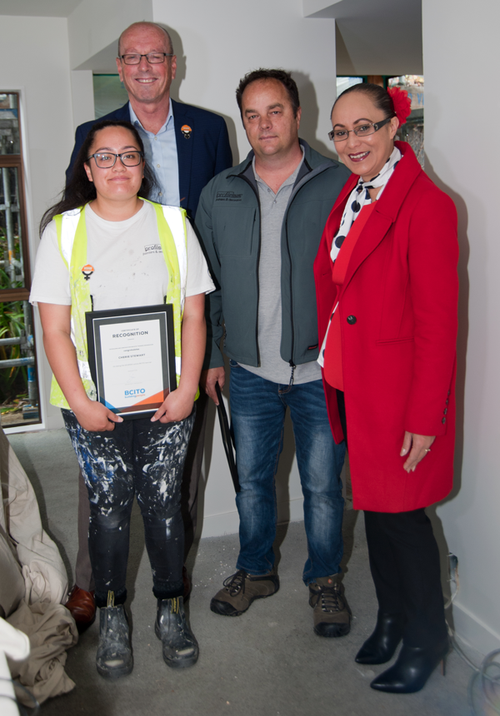 BCITO's 12,000th apprentice, 21-year-old Cherie Stewart, is painting her way to a brighter future. Employed by Auckland based painting and decorating business Profile Property Services Ltd, Cherie was eligible for the first two years of her Painting & Decorating apprenticeship 'fees free'. 
Her new career not only makes financial sense – it's also a lot of fun. "We work as a team and have a bit of banter. Plus, I know that I'm embarking on a career which will enable me to Earn and Learn without racking up a student loan," says Cherie Stewart.
The number of employers who are offering formal training through BCITO has also reached record highs, with 15.3% growth in the last two years. 
Profile Property Services Ltd owner, Paul Eaton, has taken on four apprentices and encourages others to do the same. He says an apprenticeship was a condition of Cherie's employment.
"Cherie is really reliable and willing to learn. She has a lot of potential and we wanted to put her on a path to a successful career with a secure and well-paid future. BCITO apprenticeships offer wrap-around training and support which ensures she is working to industry best practice and her skills are recognised. It also ensures our clients get a quality result," says Paul Eaton.
A presentation for BCITO's 12,000th apprentice, Cherie Stewart, and her employer Paul Eaton was held in Auckland on 2 October.
For more information, images or to head along to the presentation please contact: 
Lucy Hall
Acumen Republic for BCITO
04 494 5135


More News
Information for BCITO apprentices.
Building and Construction Industry Training Organisation (BCITO) Chief Executive Warwick Quinn acknowledges the significance of the changes to the vocational education training system proposed by the Minister of Education, Hon Chris Hipkins.