Being experienced means constantly learning
Auckland business owner Paul Eaton has been a Painter & Decorator for 28 years. Throughout his time in the industry, Paul has worked on all manner of sites from residential to commercial with the occasional city council or rental property thrown into the mix.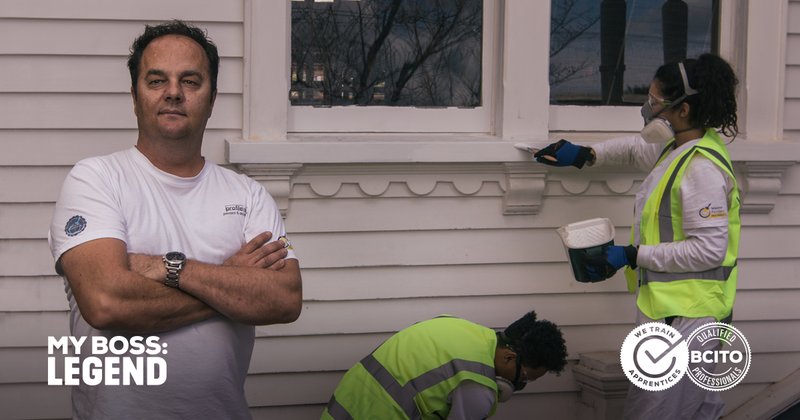 Paul's company, Profile Painters, has grown from employing 4 people in 1991 to 32 people today. As a boss, Paul believes that it is important for team members to understand their value in the 'bigger picture' and how they can progress within the company. Paul says, "We are a team - my people work with me, not for me and if we all work to the same goals and standards the business will be more successful for all of us. Each person has their part to play.
"That's not to say that people won't make mistakes - to be experienced means you have to have made mistakes. I probably didn't start out as a good employer, and I made some mistakes along the way, but I learned through those experiences. Recognising your mistakes allows you to improve continually. You are never too old to learn; you just need to be humble enough to accept that no matter how good you are, you can always be better by listening to, and learning from, others. Part of this concept is accepting your own, and your team members', strengths and weaknesses and making sure you use each person's strengths well."
Running his own business means that Paul has had the joy of seeing people who have worked with him for 10-20 years grow from being single, earning an average wage to having a family and earning very good money. Paul says, "It didn't take too long for me to realise that you only get back from employees what you're willing to put into them. If you are successful, you must share that success with your people. 
"Delegate then trust is the management style I use, and it's what I believe works for our team It is really important that your staff understand that you respect them as people and that you want the very best for them and their families. My original team now have families, own nice homes, have nice cars and holidays, they do not have to struggle financially anymore. As an employer, the achievements of the individuals in my team are very rewarding and make for some of my proudest moments. To think that my business and training people grows their futures makes me both humble and proud. Celebrating milestones is also important – I recently treated one of my guys and his wife to a trip to Fiji to celebrate 20 years working together. If you help out your team, they'll want to help you back, and that's what builds a successful, top-performing team."

Legend 'wise words'
an effective leader needs to care. You need to accept the strengths and weaknesses of your staff and promote their strengths and help them out with their weaknesses.
a commitment to industry training means training as much as possible.
best business decision was systemising my business and employing office staff.
life-long learning means being humble enough to accept that no matter how good you are, you can always be better and you should listen and learn from others.
at the end of a tough week I spend time with my wife, gardening or relaxing at home.
in 5 years I hope I continue to be happy and healthy.
Paul Eaton, Profile Painters
View Paul Eaton's story and more stories about other legendary bosses.





More News
The Building and Construction Industry Training Organisation (BCITO) is pleased that the Government is moving quickly to establish the first construction Centre of Excellence (CoVE).
BCITO comes on board this season to become the front of jersey and official sponsor of the Waikato Under 19s team.