To have your work recognised is very special
Graduating in Kitchen Design
Completing a qualification takes passion, dedication and time. The New Zealand Diploma in Kitchen Design typically takes twenty-four months to complete. During that time, a trainee will attend two off-job courses and complete four assignments alongside their day job.
New Zealand Master Joiners Otago Chapter, BCITO and the National Kitchen and Bathroom Association have been holding a graduation ceremony for Joinery and Kitchen Design apprentices for ten years. This event is a recognition of excellence. It brings together families, trainers, apprentices, assessors, industry members to celebrate the achievement of apprentices. Jacqui Colbert, Dunedin's BCITO Business Development Advisor, has been working with NZMJ to arrange these graduations since they started in 2012. "It's just grown and got better and better every year. We're still improving. The event is sponsored by industry, so the kitchen designers received a backpack from Blum," says Jacqui.
Peter Leith, president of NZMJ's Dunedin branch, Andrew Bellamy, Gary Turner, and Penny Leith champion this event from the industry side. Andrew shares, "NZ Master Joiners don't see it as totally NZMJ focussed. We classify it as an NZMJ, BCITO and NKBA event."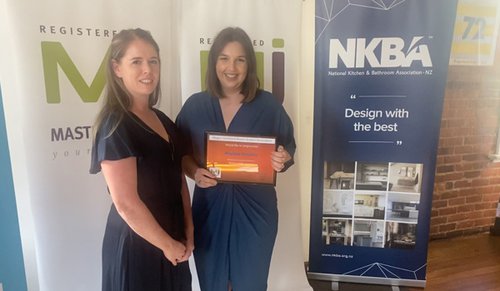 Penny Leith (pictured on the left), Chairperson of NKBA's Southern Chapter, says, "There's so much work and time that goes into their qualification, and it's a huge accomplishment."
Meghan Nockels (pictured on the right) from Design Federation was one of the graduands of the night. She shared her reflections on the ceremony and on the journey to reach it. "It's a real honour to finally get to the stage of graduating. It's lovely to be able to celebrate it with family and friends, and to have your work recognised is really special."
"It was nice to talk to the other graduates and know that they've been on the same journey. We aren't learning in a classroom together, so it was refreshing to hear that their journey was similar to mine."
Meghan also spoke of the challenges involved in reaching graduation, "The greatest challenge was time management. I work full time as a designer and organising my time to work on the assignments was crucial. The course was challenging but I'm grateful to have gained all that knowledge, if it was easy everyone would be doing it and there wouldn't be the honour and recognition associated with gaining the Diploma."
More News
We have put in place a vaccination policy and process that allows us to protect everyone and meets the requirements of the Covid-19 Protection Framework (traffic light system).
New Zealand Master Joiners, the National Kitchen and Bathroom Association and BCITO have worked together to recognise Joinery and Kitchen Design learners in Otago.