Best in the business
It was fantastic to celebrate the Concrete Apprentice of the Year at a small presentation in Wellington on 24 March.
Although its conference and the awards evening were postponed from 2021, Concrete NZ put together a wonderful celebration of excellence. Huge thanks go to their team for ensuring the celebrations went ahead. Big congratulations to Maxwell Sercombe of HEB Construction Limited for being awarded Concrete NZ Apprentice of the Year 2021. We caught up with Maxwell to hear about his journey into the Concrete sector and what winning this award has meant to him.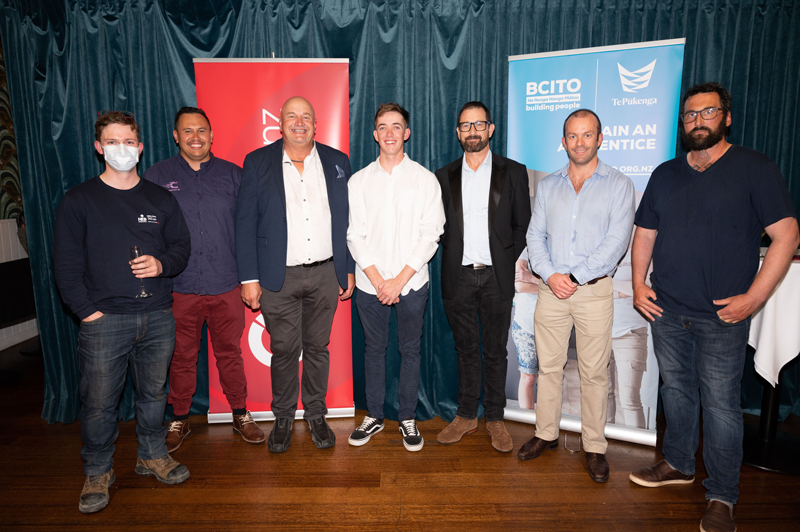 Max and the HEB team
How did you get into concrete, and what were you doing before starting your apprenticeship?
"I got into concrete and construction in my last year at Wellington College. I was in a Gateway program named 'Trades Academy' run by Graeme Cowie. Trades Academy was structured to get younger people into the trades right out of school and to get work experience on job sites. During one of my classes, Logan Puhara (an HEB supervisor and son of Ray Puhara, the Apprenticeship Manager) asked if anyone was looking/keen to do an apprenticeship on Transmission Gully. Not entirely knowing what path I would take for a career but knowing I wanted a job with room to grow, I took this opportunity and did the interview. I was accepted because I had my learners' licence at the time and was able to get to the job site. All I had to do was show up with a keen ready to learn attitude, ask questions and get through my three-month trial before they signed me up to do my apprenticeship."
What made you decide to have a go at the Concrete NZ Apprentice of the Year?
"I never really saw myself as operating at an award-winning level for anything, to be honest. I was recommended by Jonny Best, my Training Advisor at BCITO and Ray Puhara. I wasn't sure what it was and was a little bit on the fence as I thought it may have been some cutthroat competition, a one-on-one battle on who can make the best concrete slab. With a little convincing and explanation on what the competition really involved, I came around and went through the process of signing up, not expecting anything to come of it."
What did it mean to you to win the award?
"Winning means a lot. It's validation of the work I've put in for the last four and a half years. Knowing I started from scratch and my efforts did not go unnoticed makes me want to keep pushing to do my best. I also see this award as a recognition for those who helped and facilitated my learning along the way as I would be nowhere without their guidance."
With your qualification behind you, what does your future in the industry look like?
"I'm hoping to continue working in and striving to learn more about the industry. I want to gain more accolades and work my way into a leadership position (leading hand, then foreman further down the track). Being able to teach the next generation while still being a student of the game will always be my drive."
What advice do you have for next year's apprentices vying for Apprentice of the Year?
"It's all about showing up with a positive attitude and willingness to learn. When I started, I was driving a 50cc scooter to work in the driving rain on the back roads of Wellington, but I was still there on site on time. With each day you show up, with each hour you work, you're absorbing information, so over time, you will gradually find yourself fitting in and learning more. Ask questions, it's hard when everyone you work with knows most things and expects you to know everything as well, but as you will find, most experienced staff are happy to share their wealth of information."
A massive thank you to Maxwell for giving up some precious time to catch up with us, and we wish him nothing but success for his future in the industry, which certainly looks bright.
More News
Jess Nielsen stands out as a trailblazer after placing third at the 20th Annual Registered Master Builders Apprentice of the Year competition; the first woman to place and the second ever to reach the national competition.
You may be aware of the Government's intention to disestablish Te Pūkenga | New Zealand Institute of Skills and Technology.