Best in glass
Unfortunately, as with many events in 2020, COVID-19 caused the cancellation of the Window & Glass Association NZ Conference and Gala Awards for this year. 
With apprentices in mind, a decision was made by the Window & Glass Association NZ and BCITO to go ahead with the apprentice awards for Architectural Aluminium Joinery (AAJ) and Glass & Glazing. Although our winners didn't get to experience the glitz and glam of the Gala Awards evening, they were all awarded their trophies and certificates at workplace presentations, and were able to share their success with the people most responsible for their growth in the industry.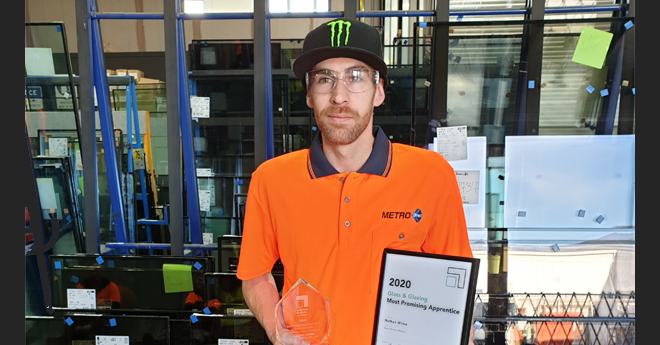 For Nathan Wiren of Metro Direct Nelson, the buzz of being recognised as the glass & glazing industries Most Promising Apprentice for 2020 is yet to wear off. "It means the world to me and is a huge achievement personally, as well as for my company Metro Direct in Nelson" he said. Nathan credits some of his success to having some processing experience behind him before starting his apprenticeship, "That definitely helped me get this award. I also set myself a goal of finishing 1st in class at my first off-job training course in Wellington which I also achieved."
Nathan is well aware of the next big goal in his career, the Allen Sage Memorial Award for Apprentice Excellence, and it's something he has been working toward since the start. "I was aware of both awards when I started my apprenticeship and I have set goals to make sure I am in the running for them. I placed 1st in class at block course this year, and I plan on doing the same the next two years. I have awesome mentors here at Metro who are pushing me to achieve my goals." There is no doubt that the name Nathan Wiren will be shining in the glass industry for some time yet.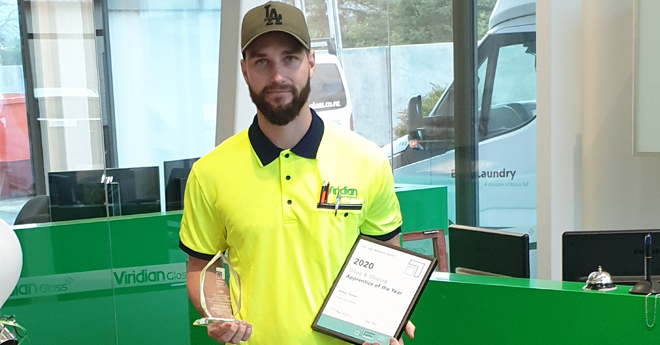 There must be something in the water in Nelson as the winner of the Allen Sage Memorial Award for Apprentice Excellence this year was Ethan Taylor of Viridian Glass Nelson. Ethan's name may be familiar to you all as he was the Most Promising Apprentice winner in 2018, so it comes as no surprise to see his name up in lights yet again. For Ethan this award is recognition for all his hard work in the glass industry, "It is an honour to receive such a prestigious award in the glass & glazing industry. It is something I have strived towards in my time as an apprentice and it feels amazing to achieve my goal."
Although his time as an apprentice has come to an end, the learning and growth does not stop for a young man destined for big things in the industry. "To receive not one but two awards for my efforts in glazing is just unreal, it feels amazing! But the learning is not over for me yet, my goal is to keep up-skilling and to keep moving up in the glass industry. It's so great to have the support of Viridian Nelson through this journey" he said. Never give up and always strive to be your best, they are the words that personify Ethan's time as an apprentice, "Don't be afraid to try new things that are outside your comfort zone, some of my greatest achievements have come from testing myself," he said. Great advice for our aspiring apprentices to follow as they carve their own journey in the glass and glazing industry.   
More News
The Building and Construction Industry Training Organisation (BCITO) has set a record of 16,000 apprentices in training.
Have you heard? – the NAWIC Excellence awards 2021 are happening and open for nominations!