Better work life balance working in the trades
The construction industry offers great earning potential, and job growth sits at about twice the national rate. Still, a career in the trades is rarely suggested to girls in school. Less than three per cent of the 'on the tools' workforce are women but as the demand for skilled workers in the sector grows, that's about to change.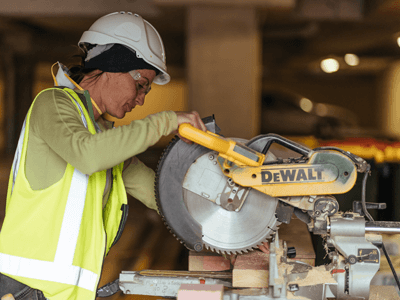 Chloe Davis, a young mum of three, never considered a career as a builder while working in hospitality. But when she was made redundant just before Christmas, her dad suggested she join him on the building site. Chloe applied for an apprenticeship, got the job, and never looked back.     
 "I have the right work ethic and I'm physically fit, so I thought why not? The hours are long in hospo with little flexibility. Now I can have my weekends off and be with my kids," she says.  
Chloe was hired as a carpentry apprentice by McMillan & Lockwood Ltd, local builders who understand that an investment in apprentices does not only provide people with job opportunities, it also futureproofs their business and the construction industry.
She was quick to overcome the initial challenges of being a new tradie and says she loves using a sledgehammer. She's even made a carpentry table for her daughter's Kindy for which her employer provided the tools and materials.
"It's so nice when my kids are proud to tell their teacher and other kids that their mum's a builder. They are stoked," she says.
Working in the trades offers a fantastic work-life balance, especially for people like Chloe who are juggling work and family. She also enjoys that the work is creative and that there are continuous learning opportunities. No site or job is the same.
"The terminology and culture change were a little difficult to deal with at first, but you get used to it. It takes grit, endurance and determination to be a woman tradie, but I like the challenge and showing people that I can do this!"  
The ability to earn while you learn and the Government's new fees-free policy make it an even better opportunity for women to make the switch.  Visit buildingwomen.nz to find out more about a career in the trades and don't miss the BCITO and Mitre 10 Mega Building Women Night meet-up event at Mitre 10 Mega Tauranga on 3 October. Like Chloe, you won't regret it. 
Source: Bay of Plenty Times
More News
The Government has announced a $12.1 billion COVID-19 Economic Response Package for small to medium businesses and employees during this period of uncertainly.
The health and wellbeing of our industry's employers, apprentices, and our people are of paramount importance to us.