Born to be a Bricklayer
Just over a year and a half ago Jemma Mead from The Brothers Mead made a major career shift and she hasn't looked back since.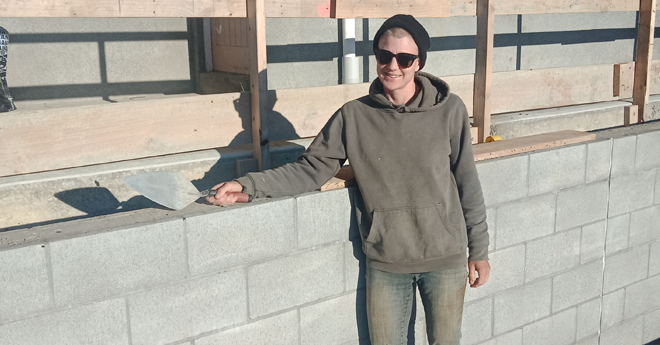 Before she decided to take the plunge and have a go at brick & block laying, Jemma was working as a payroll officer. She says, "I got offered a labouring role with The Brothers Mead 19 months ago. I enjoyed it so much that I decided to start an apprenticeship with them."
For Jemma, life as an apprentice has been very enjoyable, it helps that she has become very fond of her trade. "I enjoy everything about this job. As a brick & block layer we have a very important role in the building industry. I have really enjoyed learning what it takes to be a brick & block layer and getting to practice it every day," she says. Asked what the biggest challenge is, she replied, "It's pretty simple, my biggest challenge is wanting to be a good tradeswoman every day."
Jemma's BCITO Training Advisor, Darryl Bradford, has had the privilege of looking after Jemma throughout her apprenticeship so far, so when asked what makes Jemma such a good apprentice it was no surprise to hear him full of praise. "I really enjoy going to visit Jemma, she is always prepared and ready for each visit and that includes sending me evidence of her work before I have even gone out to site. She has great respect for the brick & block qualification and is always happy in her work which will have a huge impact on how she progresses in this industry," says Darryl.
Jemma is one of only five women currently undertaking the brick & block qualification with BCITO so it felt appropriate to seek out what advice she had for those thinking of getting into a construction trade. "As women, we can do anything we want; we just might have to work a little harder to get it. If you have ever thought about working in the trades then do it, it's exciting and an opportunity to prove that we make excellent tradeswomen," says Jemma. With apprentices like Jemma coming through the system, it is exciting to see the future of the brick and block industry is in very capable hands.
More News
The Government has announced a $12.1 billion COVID-19 Economic Response Package for small to medium businesses and employees during this period of uncertainly.
The health and wellbeing of our industry's employers, apprentices, and our people are of paramount importance to us.