Bringing glazing into the 21st century
When Charmaine Farquhar took a temporary role in the office of Palmerston North's Viridian Glass, she had no idea it would set her up with a career for life.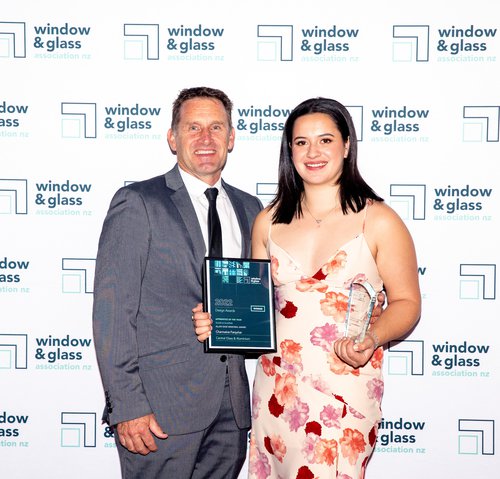 Having recently won the prestigious Allan Sage Memorial Award for apprentice excellence in the glazing industry and being the first woman to do so, we caught up with Charmaine to discuss her journey in the trades.
"After working in the administrative side of the trade, I developed a passion for the glazing sector and wanted to get on the tools. I started my apprenticeship at Viridian Glass and completed it at Central Glass and Aluminium. It's incredible how we can transform and create spaces from nothing through the effective use of glass."
Charmaine started her glazing apprenticeship with BCITO in 2019, and at that time, she was one of only eight women in the glazing trade in New Zealand. Rather than feeling dispirited, this motivated her to succeed, and she excelled in both the theoretical and practical aspects of the job.
"It's a huge privilege to win the Allan Sage Memorial Award. While I know I'm a skilled glazier, this has improved my confidence, not to mention it looks great on my resume. If I had heard of another woman winning the award during my apprenticeship, it would have inspired me to work even harder."
Now fully qualified, Charmaine trains and mentors her own two apprentices, Jess and Ryan. And despite the sector still being largely male-dominated, Charmaine says she has been treated well and has made lifelong friendships.
"Being a sub-contractor, I deal with a lot of trades and have been treated brilliantly by everyone. My skill and competence as a glazier are respected. Working in the industry is fantastic, and I encourage anyone to give it a go. With buildings becoming more glass-centric, the future is looking bright."
Charmaine's BCITO Training Advisor, Kieran Fell, says that Charmaine was a great apprentice with a 'bring it on' attitude.
"She is exceptionally skilled and proactive and works hard to upskill herself continuously. I'm privileged to still be working with her as we train her apprentices, Jess and Ryan, to become fantastic glaziers themselves. Charmaine is a leading advocate for women in the trades," said Kieran.
Brett Francis, CEO of the Windows & Glass Association New Zealand, says that one of his organisation's goals is to increase the number of women in the sector.
"It is great to see skilled and talented women, such as Charmaine, picking up the tools. Women have so much to offer the industry, and we all benefit from the skills they bring."
Amanda Williams, Principal Advisor for Women at BCITO, says that women such as Charmaine, are paving the way for a new era of construction.
"Charmaine is leading the charge on improving diversity within the workplace, especially in the Glass and Glazing industry. With her influence and leadership, Charmaine is helping drive the industry forward."
BCITO encourages people from all backgrounds to consider an apprenticeship. Learn more.
More News
Jess Nielsen stands out as a trailblazer after placing third at the 20th Annual Registered Master Builders Apprentice of the Year competition; the first woman to place and the second ever to reach the national competition.
You may be aware of the Government's intention to disestablish Te Pūkenga | New Zealand Institute of Skills and Technology.