Knocking Outward Bound off the bucket list
BCITO Frame & Truss National Advisory Group member Andrew McLachlan, from Placemakers in Wiri, willingly took up the opportunity to attend a two-day invitational at Outward Bound in Anakiwa. 
Here's what he had to say about the experience.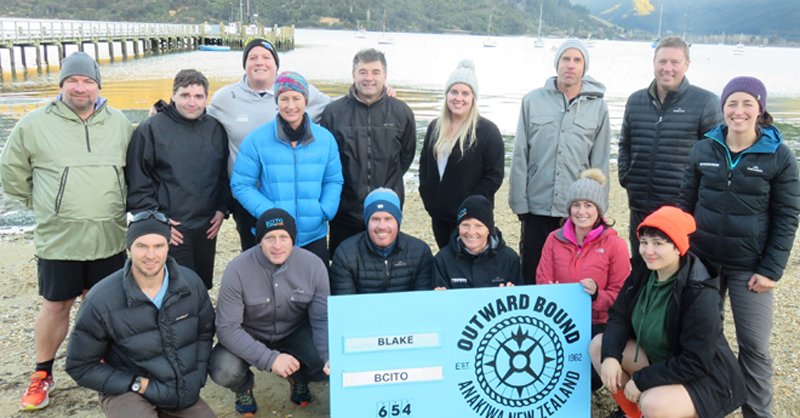 Andrew McLachlan (back row, 2nd from the right) at Anakiwa with the rest of his watchmates.
"I have spent quite a bit of time in the Marlborough Sounds over the years and often wondered what Outward Bound was all about.  
"I had also heard a fair bit about Outward Bound from friends and colleagues. I am a keen outdoors type so knew the break away from the office would be welcomed. However I wasn't totally prepared for what was about to happen.
"Going into the course I was a bit apprehensive.  So many things we take on these days are scripted (especially with work or training environments) you generally know exactly what you are going to be doing and when. With Outward Bound it's not outlined what exactly is going to happen.  The apprehensiveness I guess comes from the removal of the knowing or being in control of the situation, it's quite a unique feeling, at least for me personally.
"I had always held an uneasiness with heights. I liked being gently forced into a challenge to face the fear along with the guidance of instructors and the support my watch mates. It payed off, I completed the high rope course and now have a taste of a lesson on how to not panic, manage the fear and push through to get a result. 
"It's an interesting human dynamic that becomes obvious at Outward Bound as you move through the various challenges. A lot of the things I just wouldn't have done had I not been part of the watch.   Running for 3 km (or trying to), swimming in ridiculously cold water, hanging from the trees scaring the proverbial out of myself, sleeping in the bush in zero degree temp etc, etc. All that being said, the dynamic is a great mechanism to be able to challenge oneself. I could also see it in the group dynamic of the younger watches going through on the apprentice course.
"You never want to say too much as it may put people off. But I know looking back that, although not necessarily comfortable at the time, I can see how valuable life lessons are formed on the course. I also know that rekindling your appreciation of your freedom and home comforts is a great thing. Having just a taster, I can totally understand why and how people become mentally stronger and more resilient having completed one of the Outward Bound courses.
"PS:  Brilliant move on having smart phone removed for duration – I enjoyed handing that in - going off grid and becoming 'uncontactable'."
More News
The Government has announced a $12.1 billion COVID-19 Economic Response Package for small to medium businesses and employees during this period of uncertainly.
The health and wellbeing of our industry's employers, apprentices, and our people are of paramount importance to us.