Building a family company for the future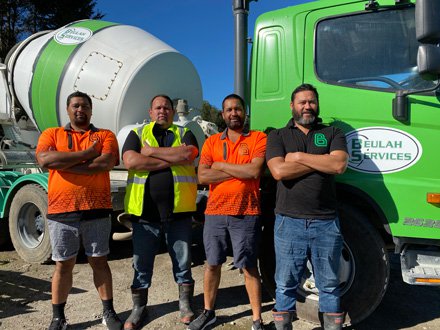 Jared Rika is the CEO of family-run Beulah Concrete Services in the Eastern Bay of Plenty which employs 40 staff. 
"I was born in Whakatane and have four brothers and five sisters," says Jared. He and Wade started working for their father Leonard, right from the beginning of the company in 1989. Four years ago, brothers Jared, Wade, Caleb and Josiah (all four Rika brothers) took over the family business. The company employs nephews, nieces, brothers-in-law, cousins and more! Many of the whanau worked in Australia for a number of years before returning home to become actively involved in the company and community.
The company's range of capability and experience is huge: decorative driveways and paths, house and shed slabs, cowsheds and feed pads, silage bins, industrial tilt slab buildings and site preparation. Continuously looking to the future, Beulah has recently diversified into the civil sector with kerbing and effluent drainage. A precast wing will also be starting up soon! "We felt it was not good to rely on driveways. Our ready-mix plant has 6 guys in that, too," Jared reminds me.  Beulah has its own concrete batching plant audited to NZS3109 complete with ready-mix concrete trucks and full membership of the Concrete NZ Readymix Sector Group. 
"It was while I was doing my carpentry apprenticeship in Whakatane with Lance Jamieson back in 2005/2006 that I met Wade and the crew. They did a good job completing the house slab and a dark exposed aggregate driveway to the Coastlands house for us," says Paul Bailey, BCITO Industry Advocate.
Wade has achieved BCITO National Certificates in Concrete Construction Sitework (Level 3), Concrete Construction Pre-cast Concrete (Level 3), Concrete Production Ready-Mixed Concrete (Level3) and Construction Trades Supervisor (Level 4). 
"Over the years we have put a number of our staff through a range of National Certificates, our brother Caleb received Runner Up Apprentice of the Year 2017 and we currently have two staff training through BCITO," says Jared.
Caleb has achieved BCITO National Certificates in Concrete Production (Level 3) and Concrete Construction Placing and Finishing (Level 2). 
Jared himself has achieved BCITO National Certificates in Concrete Construction Placing and Finishing (Level 2), Concrete Construction Sitework (Level 3) as well as the National Certificate in Construction Trades Site Supervision (Level 4).
"The supervisor's qualification opened me up to using new ideas which enables us to grow with the industry," says Jared, "for example, we now use online calendars and sync everyone's phones to it. It is way better than using a whiteboard!" Other important things he learnt include:
How to develop and put key systems in place
Taking care of urgent tasks 
Using technology to your advantage
Delegating Key Responsibilities 
"A lot of my job is around staff management. Currently, I'm trying to train up people within our company and encourage them to step out. I've asked our longest-standing concrete worker to start working in the office. I don't want to lose his 25 years of knowledge when he's had enough of site work. I can teach him to use the computer, but I can't replace his experience!" enthuses Jared.
The company has taken opportunities presented to it and is reaping the hard-earned rewards of this investment into its people.
"Beulah Concrete, as a Māori owned business, was eligible for the TPK (Te Puni Kokiri) cadetship fund some years ago. This allowed for funds to be utilised towards trainees of Māori whakapapa towards employment opportunities and training that would eventually lead to apprenticeships and higher-level learning. 
"Their business is fully supportive of Māori employment and success in attaining new recognised skills.  The business employs local Māori and has built an industry within the concrete sector that localised Whanau regard as a very supportive employer. This is one of the purposes that the Te Puni Kōkiri funding cadetship was brought about for: to help recognise and assist businesses like Beulah Concrete. This eventually led to apprenticeship training in Placing & Finishing, Plant Batching operations and Site Supervisory qualifications amongst others," says BCITO Kaitohutohu Māori- Project Coordinator Garyth Argo-Kemp.
Josiah successfully completed the TPK Cadetship and continues to grow in knowledge and experience in the Concrete Industry.
"The main challenge in our work is you only have a short timeframe to do a good job. I like the physical work and the camaraderie between workmates; the finished product and seeing something progress. Builders are on a site for months, we work on multiple sites every day, and it is never the same. We are usually the second trade on the job and at the end of the day we get to look at our work and say 'Cool!'" smiles Jared.
More News
As free trades training starts, being an apprentice and training in trades have become so much more attractive.
WorkSafe would like to ensure that you are aware of the risks of working with engineered stone benchtops, used primarily in bathrooms and kitchens.