Building the next generation
There are the typical nature table and crafts station, but thanks to Rachel Corbett, her six-year-old daughter's Wellington classroom also includes a workshop table set up with toolboxes and timber so the kids can experiment with construction and gain confidence using tools.
It's one of the many perks of having a qualified builder for a mum. Corbett finished her apprenticeship last year, and although she was in a minority, with women making up just three per cent of trainees and apprentices in the building industry and associated trades, neither Corbett nor her daughter see it as a big deal.
Lennox is just as happy hanging out at the construction table with all the other girls as her mum is at work on a building site.
"It's just normal for her," says Corbett. "That's the way they are growing up."
While she was never encouraged into the building industry at school, Corbett grew up with strong role models of her own. As a solo parent, her mother was happy doing whatever was needed around the house, and her engineer grandad happily passed on some of his skills to his curious granddaughter.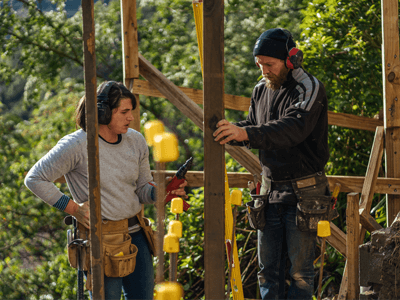 Corbett originally qualified as a landscape gardener and spent 11 years in that trade. But after spending time on sites with builders, she realised theirs was the job she really wanted. After a few conversations with the right people, she started an apprenticeship with a business owner she met on a job.
Leaving an established career to start over again as an apprentice was definitely a gamble, but Corbett hasn't looked back.
"I really enjoy it. I'm not stuck in an office, every day is different, and I get to see something through from start to finish."
While retraining meant a temporary pay drop as she completed her apprenticeship with the Building and Construction Industry Training Organisation (BCITO), she still brought home an income while training and there was no need to take out a hefty student loan.
Her landscaping experience also meant she could sign off some modules ahead of schedule.
"Sometimes you have to start at the bottom to get to the top," she says.
Corbett loves that each day brings something different, but what she really values is a supportive boss who recognises her family commitments and is happy for her hours to allow for school pick-up and drop-offs.
"A few of the guys at work share drop-offs with their partners too, so I'm not the only one doing it."
Corbett laughs that she lives in a typical "builder's house", with lots of jobs waiting to be done. But there's time for that in the future, which holds plenty of options, including running her own business one day. Career progression is one of the big assets to the industry, which is why she encourages other women to check it out.
"Don't be scared. Don't worry about what anyone else thinks. Go for it."
Source: Hutt News
More News
The Government has announced a $12.1 billion COVID-19 Economic Response Package for small to medium businesses and employees during this period of uncertainly.
The health and wellbeing of our industry's employers, apprentices, and our people are of paramount importance to us.