Capital's largest infrastructure project in two decades
LT McGuinness are constructing the new iconic world class facility that will enhance Wellington's position as a leading visitor and conference destination in Australasia. The project kicked off in 2019, due for completion in 2023.
BCITO's Industry Advocate for Carpentry, Helen Hines-Randall, spoke to LT McGuinness' Tākina – The Wellington Convention and Exhibition Centre Project Manager, Stu Hercus, to find out a little more about the sustainable 5-Green Star centre opposite Te Papa Tongarewa, Wellington.
Stu has a degree in Building Science and has extensive experience working in the commercial sector. Just a few of the projects he has been involved in during his construction career include Wellington's Supreme Court, ASB Sports Arena, The Rocks at Wellington International Airport, the Hub at Victoria University, Market Lane, Project 56 on The Terrace, and the Bowen Campus.
Stu says they did quite well getting out of the ground on this project. "We did quite a lot of due diligence for the excavation to avoid any fouling with piling, that went really well as did the concreting. Fortunately, it was summertime and it wasn't too wet so we got off to a pretty good start. There have been a few challenges around steel supply but nothing that we can't handle - that is a critical part of the job that needs to run smoothly as if it's not, it can make or break a job.
"At the moment we have approximately 50-60 people working on site. When we'll be working at full capacity we'll have anything up to 300 people here. Throughout the course of the project we'll have anything upwards of 30 specialist trades coming and going from the project. 
"We haven't been too impacted from COVID-19, alot of the steel comes from Asia along with the glass - concrete and precast are local as well as the fit-out materials. The Green Star element does refer alot to energy use levels. There's also a collection of storm water tanks that will hold grey water for flushing and other recycling water related services. 
"The supporting factories that provide materials to us are busy. We may not have many people on site at the moment, but in the factory they are manufacturing the structural steel for the 40-50 plus steel beams. These have been outsourced to a number of factories around New Zealand.
"We presently have four apprentices on this site and they are 1-2 years through their apprenticeships. We also have 18 apprentices that are spread across a number of other jobs. A job like this is pretty critical to their career with a concrete base construction moving into steel. We'd look to bring more on site so they get to experience working on a 5-Green Star sustainable building. They'll get to experience working with concrete, steel, framing, cavities, claddings, in-situ framing, door hanging, gutters around the parapets, and more. We'll be using sustainable timber selections from verified forests, there's over 50 base isolators so they've got exposure to that. There's a good run on setting out because it's a curvy, organic form building – setting out is going to be really interesting and we already have one apprentice asking to take that on. They will be pretty excited to get to work on a building of this nature. The progress every week is very apparent.
"We have mentors to support our apprentices who are looked after by our Senior Mentor, Billy Manuel, who has been with LT McGuinness for more than 20 years. We organise seminars and workshops to ensure apprentices get exposure to various materials and building methods, so we make sure they go to other sites to gain the appropriate knowledge and skills. It's also good for them to go to a factory to see some of the supply chain elements and how they operate.
"There's no car parking attached to the building. Wellington City Council are trying to encourage the use of public transport – there's a drop-off zone on the front of Wakefield Street and Te Papa will be used for buses. There's two laneways on each side of the building for servicing.
"We're on track and really looking forward to seeing the build unfold."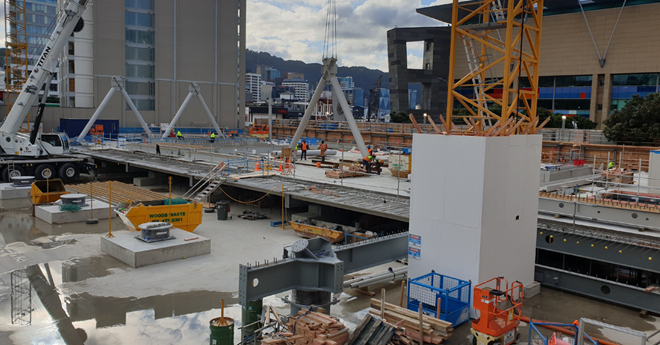 Base isolation area for incoming services that are coming up into the building from the street. The top level is the Ground Floor of the centre.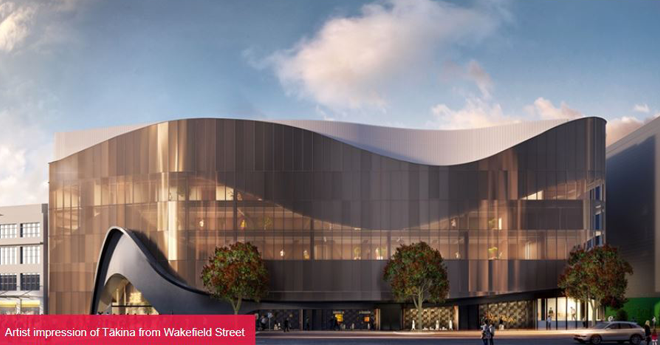 Discover more about the Capital's largest infrastructure project in more than two decades.
More News
The Building and Construction Industry Training Organisation (BCITO) has set a record of 16,000 apprentices in training.
Have you heard? – the NAWIC Excellence awards 2021 are happening and open for nominations!