Concrete Apprentice of the Year 2019
Applications are now open and will close on Friday 6 September 2019.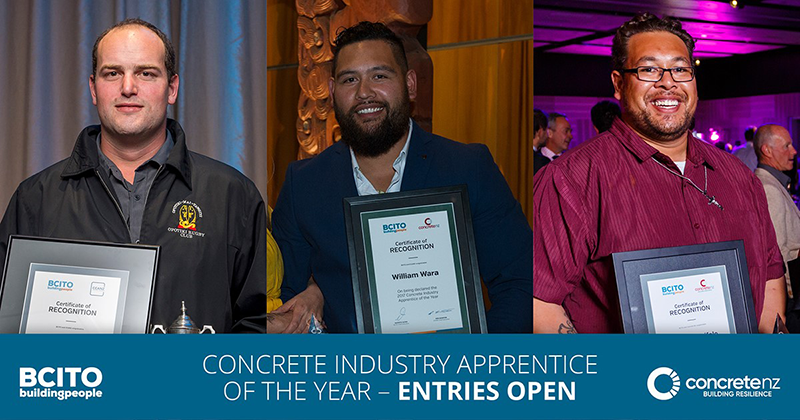 MEDIA RELEASE, 24 May 2019
Concrete apprentices from around New Zealand are encouraged to showcase their abilities and desire by entering the 2019 Concrete Industry Apprentice of the Year.
Entries are now open, and apprentices can be in to win a share of around $10,000 in prizes, as well as the sought-after title of 2019 Concrete Industry Apprentice of the Year.
Concrete New Zealand (NZ) Chief Executive Rob Gaimster believes the rationale for establishing the award in 2017 remains relevant - primarily the huge need for skilled concrete workers, as well as ensuring that those thinking about a career in construction are aware of the rewards on offer through the concrete industry.
"Within the construction sector, our industry has always found it difficult to attract and hold-on-to qualified workers. Over recent years this has become more of an issue with activity across residential, commercial and civil areas remaining buoyant and therefore offering prospective workers plenty of options."
"The Apprentice of the Year award has a long and respected history of recognising exemplary young people in trade training.  So, to continue to offer a concrete version as an incentive for those looking to work with concrete, just makes sense," says Rob.
"The award is also a great way to acknowledge excellence and kick-start an apprentice's career – it's a chance to set goals and prove competence, as well as interact with other concrete industry professionals," adds Rob.
"Going to the effort of completing an entry so that you can be compared against your peers sends a clear signal of commitment.  Add to that the possibility of being rewarded with the top honour and right to call yourself the 2019 Concrete Industry Apprentice of the Year, is a fantastic opportunity."
The award is open to all those enrolled in, or who have recently completed, one of the following Building and Construction Industry Training Organisation (BCITO) concrete based National Certificates:
Precast Concrete (Level 3) 
Concrete Production (Level 3)
Product Manufacture: Pipe (Level 3)
Product Manufacture: Masonry Product (Level 3)
Construction: Sawing & Drilling (Level 3)
Construction: Placing & Finishing (Level 3)
Concrete Construction (Level 4)

"The Concrete Industry Apprentice of the Year award is built on the belief that dedication and hard work leads to success, that apprentices are professionals in the making, and that the concrete industry offers a range of exciting options for those considering construction," concludes Rob.
How to enter
Eligible concrete apprentices, their employer and assessor must each complete an entry form. 
Apprentice entry form
Employer entry form
Assessor entry form
Entries close Friday 6 September 2019.
Further details can be found on the Concrete NZ website

The Concrete Industry Apprentice of the Year Award is made possible thanks to principal sponsors, BCITO and Concrete NZ.  The winner will be announced at the Concrete NZ Conference formal dinner on 11 October 2019 in Dunedin.
ENDS
For more information contact:
Adam Leach, Information & Communications Manager, ConcreteNZ
027 535 5144
More News
Industry intelligence says there are approximately 300 Resin applicators across New Zealand.
Glenn Bosworth of Bosworth Stone Ltd and Bosworth and Barthel Stone Restoration Ltd enlightens us to the practice that stonemasons had of carving caricatures of themselves into the stonework features.