Concrete Apprentice of the Year announced
Zen Tahana of Bartlett Concrete Placing Ltd in Christchurch took home the 2019 Concrete Industry Apprentice of the Year award.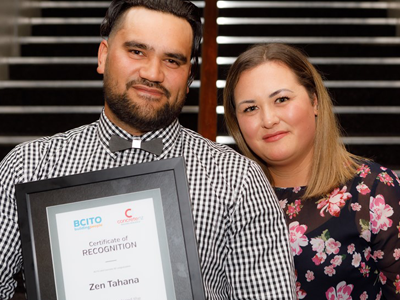 Zen was awarded the AOY title at the Concrete New Zealand (NZ) Conference held in Dunedin 10-12 October.
Describing himself as 'solutions focussed' Zen is comfortable working under pressure as he prides himself on having contingency plans at hand, backed-up by a thirst for knowledge.
Having always enjoyed concrete placing and finishing, Zen recently assumed the responsibilities of a site foreman on a commercial project.
Zen is positive and respectful in his dealings with others, communicating comfortably with everyone on-site regardless of their professional standing, technical ability, cultural background or age group.
Mark Bartlett of Bartlett Concrete Placing believes Zen is a great asset to the company - a developing leader, who is calm under pressure and always makes a constructive contribution.
Offering similar praise is Graeme Potts, Zen's BCITO training advisor, who admires Zen's communication and problem-solving skills, as well as his ability to think ahead while keeping tabs on tasks at hand.
Concrete NZ Chief Executive, Rob Gaimster, believes that encouraging young people to take-up industry training through enrolment in a BCITO qualification is an effective way to address the current skills shortage.
"Concrete NZ and BCITO launched the Concrete Industry Apprentice of the Year in 2016 for all those enrolled in, or who have recently completed, one of BCITO's concrete apprenticeships, with the aim of celebrating outstanding individuals.
"The quality of entrants in 2019 was tremendous, covering those who work (and train) in precast concrete, placing and finishing, concrete production and concrete construction.
"As always, the judging process was difficult, however, it enabled us to gauge the high calibre of those who will play an important role in tomorrow's construction industry.
"Zen elevated himself above the other entrants through a number of qualities, including his willingness to undertake research, meaning his accuracy can always be relied upon," says Rob.
"We applaud Zen for being celebrated as the 2019 Concrete Industry Apprentice of the Year. The Award recognises a commitment to trade training by Zen and his employer, Bartlett Concrete Placing Ltd, as well as the support offered to apprentices by their whanau. Through his dedication and hard work, Zen is an example to others contemplating concrete contracting as a profession," says Warwick Quinn, Chief Executive, BCITO.
Zen is currently enrolled in the BCITO's National Certificate in Concrete Construction: Level 4.
Incredible opportunities are available across the entire concrete industry for those thinking about focusing their professional future in construction. A crucial first step on the journey is to sign-up for a BCITO concrete apprenticeship.
The award is open to all those enrolled in, or who have recently completed, one of the following Building and Construction Industry Training Organisation (BCITO) concrete based National Certificates:
Precast Concrete (Level 3)
Concrete Production (Level 3)
Product Manufacture: Pipe (Level 3)
Product Manufacture: Masonry Product (Level 3)
Construction: Sawing & Drilling (Level 3)
Construction: Placing & Finishing (Level 3)
Concrete Construction (Level 4)
The Concrete Industry Apprentice of the Year was made possible thanks to major sponsors BCITO and Concrete NZ.
More News
The Government has announced a $12.1 billion COVID-19 Economic Response Package for small to medium businesses and employees during this period of uncertainly.
The health and wellbeing of our industry's employers, apprentices, and our people are of paramount importance to us.